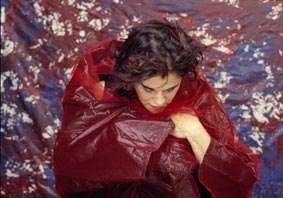 She was born in Mozambique where she started learning how to play the piano and studying musical education. She has the chance to record, together with her sister, two records which already include some of her own songs, affording her to carry out some concerts all over Austral Africa.
Later, and simultaneously to her participation in several activities which main aim was connecting culture with education (music, theatre, poetry, etc.), Amélia Muge dedicates special attention to poetry, setting some poems of Camões, Pessoa, Cesário Verde, Grabato Dias, Ramos Rosa, Flávia Monsaraz, Zeca Afonso, Drummond de Andrade, as well as poems of poets from Mozambique, France, England, Galiza and popular song-books. She has worked with theatre companies, composing the soundtrack of plays like "Caminhos Encobertos Marzinhos Descobertos" which led her to win a critics award in 1989.
After making part of Júlio Pereira's band, with which she recorded and performed several shows, Amélia Muge started a new stage of her career. Thus, in 1992 it was released her first album - "Múgica" - with production and musical arrangements of António José Martins deserving the critics' special attention. Between 1992 and 1993, she played in several places, performing her first national tour. She has also participated in some musical events, such as Encontros ACARTE/Gulbenkian and III Encontros Musicais de Tradição Europeia. She went to Holland, Amsterdam, in order to participate in the Lusofonias.
In February 1994, during three nights in a row, the auditory if the Instituto Franco-Português was sold out and in March she took part of the 5th Edition of the Inter-Celtic Festival in Oporto. In September her 2nd album was released; "Todos os Dias" was included in the list of the best albums of that year in newspapers like "Público", "Diário de Notícias" and "A Capital". She participates in festivals related to Music of European Expression and to the World Music in Holland and Belgium.
In 1995, she made her 2nd tour around the country, finishing with a show at Centro Cutural de Belém. In May "Maio Maduro Maio" was released, a set of songs of José Afonso, as a result of the work she had carried out with José Mário Branco and João Afonso. This work led to several presentations in Portugal and in 1996 in Spain and in France.
The year of 1996 was dedicated to the internationalisation of AMÉLIA MUGE's work marked by the release of "Todos os Dias" in Spain and by the remarkably successful participation in several festivals in France, being the performances during the festivals "Les Tombées de la Nuit", in Rennes, "La Tradition des Musiques Orales" in Tardets, "Les Nuits d'Encens" in Aigues Mortes, the most outstanding.
Still in 1996 she went to Spain in order to perform in Murcia and Barcelona in the Auditorium/Theatre l'Espai. In 1997, integrated in the tour passing by Paris, Toulouse, Bruges and Marseille, AMÉLIA MUGE participates in the "Festival Tranches d'Europe Express" in Rouen. In April she closed the festival folk in Madrid; in July she participated in the Festival Pirineos Sur in Huesca and played in La Revest, Rennes, Geel (Belgium) and Frankfurt (Germany). By the end of 96, she collaborated in the discographic work to pay homage to the Galician Rosalia de Castro, "Cantigas a Rosalia" directed by Amancio Prada.
In 1998, simultaneously to presentations in Spain and France, AMÉLIA MUGE began her participation in "Terras de Canto" with Lucilla Galiazzi and Elena Ledda. Still in 1998 she was invited by the Commission of Discoveries, to participate, together with Sérgio Godinho, João Afonso, Gaiteiros de Lisboa, Brigada Victor Jara, in an album where she sets and sings texts of collections of popular songs. In August, included in the programme "Afinidades" at EXPO98, AMÉLIA MUGE organizes a show called "E as vozes embarcam", having as special guests the chorus of Bulgarian voices Pirin Folk Ensemble directed by Prof. Kiril Stefanov and Jorge Palma, responsible for some of the musical arrangements. The beginning of September was marked by the launch of her most recent work of new songs "Taco a Taco". Produced by António José Martins and José Mário Branco.
By the end of 98, "Taco a Taco" was classified by the press reviewers - Público, Diário de Notícias and Expresso - as one of the best Portuguese music releases of the year, revealing, once again, the unique sonority of Amélia Muge. In 1999, besides some live performances in Portugal and abroad, Amélia Muge has participated as a singer and writer in the CD "Habelas Hailas" of the Galician group Camerata Meiga. Still in the same year, due to her album "Taco a Taco", Amélia Muge received the José Afonso prize that recognised the importance of her work as an "heir of the ideological engagement and esthetical innovation" left by the image Zeca Afonso.
This year, apart from the collaboration with the Galician group "Camerata Meiga", expressed in some joint presentations in Spain, Amélia Muge presented herself through all the country, standing out at "Festival Cantigas do Maio", organised by the "Associação José Afonso".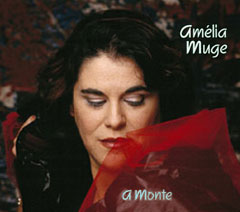 With a new original record on the stand, Amélia Muge has been dedicating some attention to the work with some national singers, composing words and lyrics for Mísia and Camané, and producing Mafalda Arnauth's new record. 2001, was the time to present a new show, with an innovator esthetical conception: the use of projections in non-conventional screens like a scenario for the words of the poets about whom Amélia Muge says: "I wouldn't be who I am, without them".
In this show, presented for the very first time at Fórum Municipal de Almada and Fórum do Seixal, Amélia Muge calls for "voices" at large (Drumond de Andrade, Lopes Graça, Fausto, Zeca Afonso, Grabato Dias, Hélia Correia, Mário Viegas, Mia Couto, Agualusa, among others) in an honouring worth to be seen. At the end of the year, Amélia Muge recorded the songs included on the show "A Monte" which was released in June of 2002.
Discography (solo): "Múgica", UPAV, 1992 "Todos os Dias", Sony, 1994 "Taco a Taco", Polygram, 1998 "
A Monte
", Vachier & Associados, Tropical Music 2002