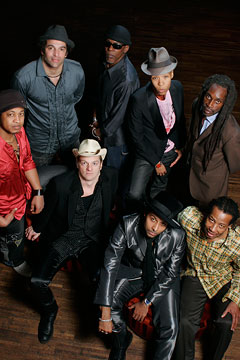 Brooklyn Funk Essentials was born out of New York's buzzing hip-hop-jazz and slam poetry scenes of the early nineties. Originally conceived by producers Arthur Baker and Lati Kronlund as a series of studio jam sessions, the group soon turned into a 12-piece live outfit consisting of some of the finest young musicians, singers, rappers, dub poets and DJs the Big Apple had to offer. Lati Kronlund played bass, and other members included Hanifah Walidah (aka Sha-key), Joi Cardwell, Papa Dee and Stephanie McKay (vocals), Everton Sylvester and David Allen (dub poetry), Josh Roseman (trombone), Bob Brockmann (trumpet), Paul Shapiro (sax & flute), Yancy Drew and Tony Allen (drums), E.J. Rodriguez and Danny Sadownic (percussion), Desmond Foster and Masa Shimizu (guitar), ATN Stadwijk and Yuka Honda (keys), Bill Ware (vibes) and dj's Jazzy Nice and Smash on turntables.
The debut album Cool & Steady & Easy (1994/95) also featured prominent guests like Maceo Parker, The Tower Of Power Horns, Michigan & Smiley and even Dizzy Gilespie. It was first released by renowned UK label Dorado in Europe, but was soon picked up by RCA's Groovetown imprint for the US and the rest of the world. The first single – a funky reggae-inspired reworking of Pharoah Sanders' classic The Creator Has A Master Pla' became an instant hit reaching the Top 20. The album, which topped Billboard Magazine's Best R&B Album Of The Year 1995, also featured songs like Big Apple Boogaloo, Take The L Train, Dilly Dally and A Headnadda's Journey To The Planet Adidi – Skizm, all of which became classics of the genre. The popular album cut Bop Hop was featured in a world- wide Nike commercial and Take The L Train became a signature tune for Hennessy Cognac's TV ads.
Apart from being regulars at New York's buzzing club scene, Brooklyn Funk Essentials began touring the world marking highlights in the company of acts like Parliament Funkadelic, The Roots, James Brown, Jamiroquai, Spearhead and Ben Harper. One of these tours found the group headlining the Fuji Jazz Festival in Istanbul, Turkey. The reception was so great that BFE recorded their second album there with 11 Turko-Romanian folk musicians know collectively as Laço Tayfa. The result was 1998's In The BuzzBag, which became a milestone in collaborative projects and earned them a Grammy nomination. It also escalated the group to a stadium capacity act in Turkey.
In 2000, Brooklyn Funk Essentials released their third album Make Them Like It, which concluded where the first album left off: A happy mélange of funk, Latin, reggae, jazz, house, dub, electro and hip hop which featured the fan favorites I Got Cash, Mambo Con Dance Hall and Woman Thing. After the 2001 world tour the band members took a hiatus and pursued a number of noted solo interests.
Offers of recording and touring where plentiful, and BFE songs kept being featured on compilation albums around the world, and in the summer of 2006, a core of Brooklyn Funk Essentials members got back together again to do a tour of three world continents as BFE Sound System (mixing classic BFE with electro and dub). By the end of 2006, the sound system model had been abandoned for a return to the group's original all live funk line up consisting of Hanifah Walidah, Papa Dee and Everton Sylvester (vocals), Lati Kronlund (bass), Yancy Drew (drums & vocals), Desmond Foster (vocals & guitar), Iwan van Hetten (trumpet, keys & vocals) and Philippe Monrose (percussion). The group continued touring the world in 2007
The spring of 2008 will see the release of the band's new album Watcha Playin'. The songs on the album have been written and developed during the band's tours in front of audiences around the world, and it has been recorded in studios in New York, Paris, Amsterdam, Istanbul and Stockholm.
Brooklyn Funk Essentials on Tropical Music: