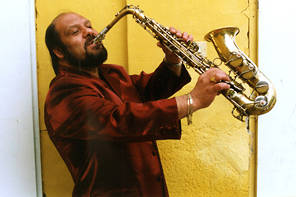 I first met Ferus Mustafov in April 1991, just before Yugoslavia fell apart and the wars started and before his first concert for the world music audience (the Druga godba festival, Ljubljana, May 1991). At that time he was at the top of his popularity. The cassette Ferus Mustafov & his guests (Diskos 1990), produced in his small home-studio, had sold in about 100.000 copies on the huge Yugoslav and Balkan markets. Like most of the significant gypsy musicians Ferus (1950) was born in a musical family. His father Ilmi Jasarov was an important Macedonian gypsy musician, who actually introduced saxophone into Macedonian gipsy music. Of course, he was the first teacher of Ferus. Ferus went to musical school in his hometown Stip. It is interesting at first he took violin classes. Very soon he moved from violin to clarinet and from musical school to the school of a musician playing constantly at weddings and restaurants. His progress was fast and already at the age of 17 he started touring around Yugoslavia.
The first records of Ferus (mainly singles) date back to the beginning of the 70's. He also cooperated with Esma & Ensemble Teodosievski on their "psychedelic" Svatba LP (RTB 1972). It is interesting that Ferus won wider recognition only after he had moved from Skopje to Sarajevo. In the first half of the 80's Sarajevo was a bustling town with its own unique vivid spirit, giving special touch to the Winter Olympics of 1984 (and later even surviving the horrors of the siege in the war in Bosnia in the 90's), and one of the most important and creative centers of the Yugoslav folk-pop music. There Ferus recorded his most important work of the 80's, the LP Ora i coceci (RTB 1984). Already on it he captures us with his imaginative, introspective and skilful oriental improvisations and Bulgarian wedding folk speed-core and Macedonian blues.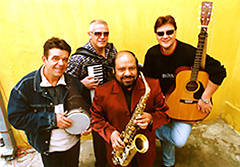 During my first meeting with Ferus I was still a 90% proof rocker, whose dreams had turned to reality by getting the job of a local tour manager for Motorhead just a year ago. I was definitely impressed by the image of Ferus. He was clad in black leather, he wore black glasses, he drove fast. Already during the Druga godba festival I was amazed to realize he definitely liked playing fast and loud music and that he was also a great master of intimate oriental tunes. Yet the Ferus rise to the world music scene was not a quick one, also because the wars in Yugoslavia in the early 90's stopped all the communications in the area. For awhile it was even complicated and extremely expensive to make a phone call to Macedonia. Only after I had got acquainted with Hijaz Mustapha in 1993, his carreer started moving onwards. In 1994 Ferus performed with his band at the Berlin Heimatklange festival and played with Klezmatics on Totem and Tabu Tour. In 1995 his first Western European record was released, King Ferus (Globestyle), produced by the excellent Hijaz Mustapha. Since its release Ferus has performed widely in Germany (also at Bardentreffen festival in Nurnberg and at Folkherbst in Plauen, winning its audience award in 1995), Nordic countries (Roskilde and Re:Orient festivals), Benelux (also Sfinx and Gent festivals), France, Italy, Spain, Greece,... He has been also active in many other fields, working as an editor at the central Macedonian Roma TV, building a big studio in his hometown Skopje, playing constantly for the Macedonians gipsies between Goteborg, Chicago and Sidney, and releasing an avalanche of local cassettes and recently CDs.

(The Former Yugoslav Republic of) Macedonia is one of the musical gems of the Balkans. A small state, which, after Yugoslavia had disintegrated in 1991, found itself caught in the middle of not always friendly neighbours - Greece, Albania, Kosovo, Serbia and Bulgaria. Its population is a mixture of ethnic groups, consisting of the Slavic Macedonian majority, a large Albanian minority, Vlachs (a Balkan ethnic group speaking a Romance language), Turks, Serbs and Rom or gypsy population. The growing pressures of Albanians upon the Macedonian majority started a civil war in 2001, yet the conflict was put out by the international community in the very last moment, before it could spread. On the other hand, the country where so many diverse traditions meet abounds in overwhelming cultural treasures. Macedonian music with its specific beats of 7/8, 9/8 or 11/8 and Orthodox and Oriental Balkan blues and soul is definitely one of them.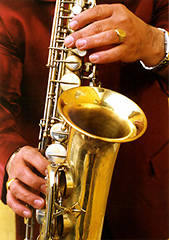 There are about 240.000 Rom inhabitants in Macedonia. Its largest settlement is Suto orizari (rice fields), a suburb of the Macedonian capital Skopje. If you take the town bus 19 bringing you directly to its center, you fall into a unique oriental Rom ambient so that you quickly forget that you are only two bus stops away from the Skopje area of blocks of flats, It was exploited by the film director Emir Kusturica in his film hit The Time of The Gypsies. And if you plan to travel there definitely do it in the months of May, June, September or October, when the local weddings move to its streets. During weekends you will not have problems in finding them. The sounds of wailing saxophones and clarinets, of keyboards imitating a kanun or sounding archaic like the Moog synthesiser of the early 70's and of the weeping singers trying to sing like the latest Turkish arabeque pop hero are its regular soundtrack. Even though Ferus Mustafov rarely performs on the streets of Suto Orizari these days, he is still the king of its fast and loud wedding sound, imitated by hundreds of young musicians.

(Peter Barbaric / Ljubljana)

CD Ferus Mustafov 4 - The Heat of Balkan Gypsy Soul (Out: 05/27/2002)