Coco Mbassi continues her highly acclaimed blend of Soul,
Jazz, Classical music and African roots with her new album "Sisea"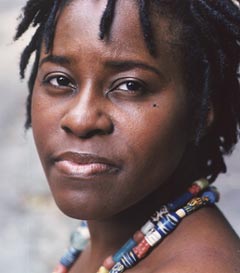 Together with her husband Serge Ngando-Mpondo and her two sons Karl and Yanis Coco Mbassi lives in Ivry-sur-Seine close to Paris. Her husband, a classically trained bass- and guitarplayer, works as musical teacher. During the weekends the family visits regularly the international and vivid services in her local church in Belleville. A church, open to the many different kinds of people living in Paris, where you can even take part in a whole protestant service in Chinese language. How does a woman descending from Africa and living since almost twenty years in Paris connect her duties of a mother with the high requests of her work as a musician and singer? Not a simple task - but she is successful in her musical carreer due to the great help of her husband Serge.

In the beginning of the nineties Coco Mbassi began to work in Paris as a background singer and whoever is familiar with the music-scene in Paris knows that quite high standards of vocal stamina are expected. She sung in the French-African gospel choir "The Cherubs" and worked with French and international stars like Salif Keita, Touré Kunda, Dee Dee Bridgewater and Manu Dibango, both in the studio and live on stage. Coco is also heard on the 1999 CD-release of Cameroon's grande-dame of Bikutsi Anne Marie Nzie.

Already awarded in 1996 with the "Prix Découvertes" of Radio France International for her song "Muenge Mwa Ndolo", Coco Mbassi received the German Critics Award for her first solo album "Sepia" and was nominated for the BBC World Music Award. She performed intensively all over Europe and played Festivals like WOMAD, Musiques Métisses and others.

Now with her second studio album "Sisea" Coco continues to spread the knowledge of her succesful blend of Soul, Jazz, Classical music and African roots.

New Album:
CD "Sisea"
Other albums on Tropical Music:
CD "Sepia"