Rão Kyao's sound is an unique personal elaboration of the rich, vocal-based sound of the bamboo-flute. He is considered an ambassador of Portuguese music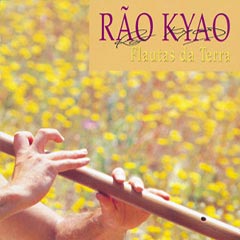 Birthplace: Lisboa/Portugal
Instruments: Bamboo flute, saxophone
Personal performances: Portugal, Spain, France, England, India, Italy, USA, Germany, Denmark, Canada, Austria, Netherlands, Japan, China, Korea, Thailand, Brazil and North Africa.
Musical influences: Fado, Indian classical music (Bismillah Khaw, Ram Narayan, and the Great Flutists) and the great singers (Ray Charles, Lucia Popp) and 'all the musicians that speak from the heart'.

Biography of Rão Kyao
1971
Early beginning of musical activities playing in the groups The Bridge and Status, that were widely acclaimed by the critics at that time.
1973
Rão Kyao leaves for France (Paris) in order to expand the musical horizons and to play with ethnically oriented groups (Indian, African). Several recordings came from that period.
Starts the systematic study of Indian Music which he believes is an important part, along with North African, of the roots of traditional Portuguese music.
1976
Malpertius, the first recording under Rão Kyao's leadership is published and immediately put him on the public's and critic's eye as a major creative artist.
1977
His second record Bamboo is elected by the critics in Portugal as best album of the year.
1978
Rão Kyao participates in Jazz Yatra-Festival in Bombay (India) with his own group.
Stays in Bombay in order to develop the study of the Indian Bamboo Flute (Bansuri) in particular, and Indian Classical Music in general, with the Master Flutist Raghunath Seth.
1979
Back to Portugal, Rão Kyao releases the album Goa (name of a former Portuguese province in India) that reflects very directly his musical stay in that country.
1980
Rão Kyao records the album Live At Cascais with a British rhythm section
1981 The album Ritual is issued with an All Star rhythm section from India.
1983
Always developing an original sound that basically shows the influence of the more romantic forms of Indian Classical Music in his own Portuguese sound, Rão Kyao records a widely acclaimed album of Fado entitled Fado Bailado, that became an instant success and the first platinum record ever awarded to a Portuguese Artist.
1984
Again in India he continues his studies along with training in Vocal Music. In Macau he records the album Macau - O Amanhecer, basically being a musical portrait of the Portuguese presence in that area. Back to Portugal Rão Kyao issues Estrada Da Luz, also an immediate success and another platinum record.
1985
Oasis LP - The extension of that concept and a Golden Record.
1986
Recording in Bratislava of a theme-series for TV issued in several countries in Europe.
1987
Highly successful in Brazil, Rão Kyao records with a Brazilian rhythm-section the album Dancas Da Rua, gold awarded and the first album simultaneously released on LP, MC and CD ever in Portugal.
1989
Rão Kyao takes his own personal conception even further by publishing the album Viagens Na Minha Terra, featuring interpretations of several folk tunes from the exceptionally rich Portuguese folklore. Golden Awards for this album, too.

For our compilation Rão Kyao - Flautas Da Terra we selected tracks from the following recordings: Estrada Da Luz (1984), Dancas Da Rua (1987) and Viagens Na Minha Terra (1989).

More info on Rão Kyao - Flautas Da Terra