If Chavela Vargas' place of birth had been several hundred kilometers to the north in southern USA, she might be a blues singer today - with her songs describing live, pain, and love with vulnerable frankness, with a feeling of radical loneliness at daybreak.
But because of her Indian descent, Chavela Vargas sings her songs in Spanish language. She is a small woman, already 87 years old who went through the ups and downs of an intense life and returned some years ago with an incredible mental and vocal power - a Mexican legend some thought had deceased already a long time ago.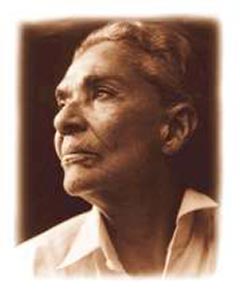 Chavela Vargas' singing has only little in common with the canciones romanticos (romantic songs) of Iberian tradition , boleros and baladas leading the Latin-american charts. Even the Canción Mexicana, today commonly called Canción Ranchera which had reached a certain commercial level in the past with Lola Beltrán or José Alfredo Jiménez, sounds very different with Chavela. She is whispering, howling, begging, imploring, sobbing - showing emotions. Only she can do this without creating laughter because this is her life. The phrase chavelazo for experiencing emotions together, derived from her which is best explained with a little story: When her friend Amelita who had fought with Zapata as Coronela died at the age of one hundred years, Chavela and her housemaid sat down at the table crying and drinking Tequila together , followed by more and more tears and Tequilas....."When there are no complications, I think up some. I always have to cry over something. Just as Gardel said: I leave a piece of my heart in everything."
To avoid any wrong impressions: Chavela Vargas is not a cry-baby, even though she has already been called "the eternal crying of the Altiplano" and " a musical key to time's conscience and feelings" in Argentina. Between Mexico and Fireland, left and right from the Altiplano, people speak the same poetic language.
ISABEL VARGAS LIZANO was born on April 17, 1919 in a small village at the pacific coast of Guerrero as a child of Rancheros (farmers). For three years she had been suffering from polio and already at the age of six her father showed her how to handle a gun and a rifle because there were a lot of revolts after the revolution.
Between 1952 and 1955 she started to sing. In about twenty years' time she became a Mexican legend. She toured concert halls, pubs, squares and bars with José Alfredo Jiménez, Mexico's most famous Ranchera-singer of all times. " We have been singing and drinking with all the mariachis and all the drunkards of Tenampa ." For about 15 years she had been drinking, rating her consummation of Tequila and Mescal at a total of 45.000 liters. " In those days, I drank all of Mexico's Tequila. This is why they do not have any good one there anymore. " and "I died twenty years."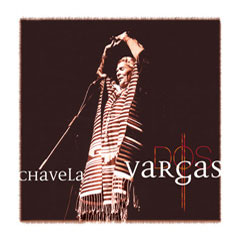 A visit in Cuba was extended to a two years' stay. From there she brought a song that has been her anthem ever since: La Macorina with lyrics by Alfonso Camin is about the only song for which Chavela also wrote the music. It is a bolero, a Cuban bastard of the Habanera with a sensitive, erotic character which also was the anthem of all forbidden loves and , most of all, the anthem of the guerrilla fighters of Salvador. But Chavela does not want to make friends with whatever guerrilla: We live in a global sadness. Guerrilla there, indifference here, religion there, wars, terror. Peace is ignored everywhere in the world. "When I can find peace in my soul, why cannot the world do the same?"
Recently, she wanted to go to Cuba again because a young poet's last wish had been that Chavela would sing at his grave. Chavela was not admitted and thus they played her records at the Velorio by the beach.
Another time in her "wild" years, Chavela Vargas says she had gone out to sing for Frida Kahlo and Diego Rivera and had returned home only one year later. Frida Kahlo (1907-1954) herself was searching for the traces of an unspoiled, pure Mexico. "She (Frida Kahlo) chooses canciones rancheros , the melancholic songs about retreat into complete loneliness commercialized by the mariachi, as hymns of serene despair. This explains her intense friendship with two great interpreters of the Mexican song: Lucha Reyes and Chavela Vargas. Gathering around a guitar in her house, Tequila and Mescal at hand, Frida is banishing pain by calling it...." (Carlos Monsiváis).
During interviews, Chavela Vargas is very careful with names today, if questioned for her famous friends, even presidents. She is, however, speaking about friends of old such as Pablo Neruda, Garcia Marquez or Augustin Lara, the Mexican composer.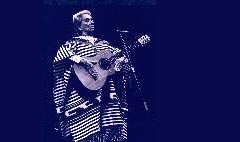 In 1961, Chavela Vargas did her first record and retreated to Cuernavaca in 1979, all alone with her lady parrot Vicenta Vargas of which she later said, an analyst in Lisbon had found out that Vicente had had the fixation of being Chavela's mother. Her farewell to show business brought her another nickname "Pistolas", coming from some rumours that Chavela had gone offstage while the concert was still on and had snatched a horse that stood in front of the hall to use for her escape.
She had been fighting alcohol for eleven years and won (I gave you my life already, Llorona, what, what else do you want?). She lived in very mediocre conditions from little savings and realized that "it is a lie that there are people who support you."
In 1990, the great German movie director Werner Herzog discovered Chavela Vargas in her whereabouts and coaxed her to play an Indian woman in his movie "A Cry of Stone". One year later, the Spanish movie director Pedro Almodóvar discovered her and let her sing a song in the sound track of his movie "Tacones Lejanos", "Piensa en mí". In his latest movie (La flor de me secreto/ The Flower of my Secret) she is heard with the song "En el ultimo trago".
In 1992 Chavela Vargas returned to Spain after twenty years of absence to be honoured at the University of Complutense in Madrid. One year later, initiated by the Spanish publisher Manuel Arroyo Stephens, she went to a recording studio again after a long time. On only one day, as she told proudly, two CDs had been done. 1994, a third recording followed. Our first self-titled CD of her songs is a compilation of all three.
Chavela Vargas has given a lot of concerts in Spain and there was a surprising lot of young people among the audience. Chavela had come to tell them again: "I wake up again in your arms and say goodbye with tears of happiness".
"I am", says Chavela Vargas, " 75 centuries old. I am not a normal person. I have been like that ever since was very young. I never did what people wanted me to do." Chavela adores Edith Piaf in whose life she sees parallel lines , Maria Callas whom she heard in Mexico City, Violetta Parra who created the new movement of songs in Chile in the Sixties and had shot herself under the cupola of a circus tent because of a painful love and Chabuca Granda, Peru's great female singer/songwriter who died too early.
"At my age you do not think of the future - neither as an artist nor as a private person. In my life there is no yesterday and no tomorrow - only a here and now. Now is my time and I live in harmony with my age. I am not afraid, neither of dying nor living nor anything else."

© Claus Schreiner 1996 - 2007

Chavela Vargas on Tropical Music:
CD Chavela Vargas - s/t
CD Chavela Vargas - Dos
CD Chavela Vargas - Cupaima