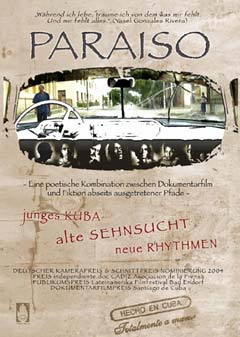 A couple of old plastic bottles and a few pieces of driftwood are enough for them. Madera Limpia create instruments and music – powerful, vibrating, explosive; the rhythm of young Cuba.
Paraiso is not about the European cliché of Cuba. It is not about romantic old cars and Buena Vista Social Club. It is about a group of young men. Around singer Yasel they have formed the band Madera Limpia (Pure Wood). They live in the eastern Cuban village of Guantánamo, where there is nothing really going on ...
And yet, Madera Limpia is playing the music of the street. Rapid, hot and aggressive. The pulsating Changüi mixed with rap and hip hop - on wooden instruments. "Our music" says Puro, the man at the trés-guitar "you have to dance, to feel - in order to hear it." In personal confessions to the camera, the musicians explain what they think about life: love, infidelity, sex, money and success.
"My priority in life is to live; while I live I can have illusions, dream of getting what I lack, and what I lack is everything. While I live, I can do it", says Yasel. Mixing black-and-white images from music videos with the color of everyday life, Paraiso is an amazingly authentic close-up of Cuban reality, capturing both the "vida loca" and the boredom and frustration on the island.
All this is shot on DV and super-8mm images, blown up to 35 mm, transforming the film's texture into poetics and approaching the wounded heart of Cuba in an original way.
Paraiso was honoured with the following Awards:
el premio "In Memoriam Santiago Alvarez", Santiago de Cuba
el premio independiente.doc 2004 - Asociacion de la Prensa de Cadiz
Audience Award - Bad Endorf Latin American Film Festival
German Camera Award 2004 and Editing Award Nomination
Best documentary aluCine Toronto 2005
The Paraiso-DVD comes with the following extras:
Trailer (english/german)
Additional scenes (Babalau, haircut, David, Mendez, music school, indios, market, carneval)
Behind the Scenes (team, in the studio, baseball)
10 music videos by Madera Limpia