Legends of the famous Lippman + Rau Festivals:
DVD 2 - Legends of Spiritual & Gospel and Folk & Country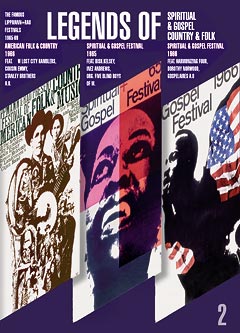 DVD Tropical Music 68.363 (764.916.836.39)
Im Vertrieb von SONY Music Entertainment
DVD 9; PAL; Alle Regionen; Farbe / Schwarz-Weiß;
FSK: ohne Altersbeschränkung
Dauer 124 Min.; Format 4/3, Untertitel in Englisch
Digipack mit Booklet 56 S. in Englisch
Spiritual & Gospel Festival 1965
Bishop Samuel Kelsey & Rev. John Little: I'm A Soldier / Tell Me How Long The Train Been Gone
Inez Andrews & Andrewettes: There Must Be A God Somewhere / What Love / Oh Mary, Don't You Weep
Original Five Blind Boys of Mississippi: Oh, Why / Jesus Rose / Lord You've Been Good To Me
u.a.
Dauer: 37:30 Min.
Spiritual & Gospel Festival 1966
Bishop Samuel Kelsey & Rev. John Little: Shut Up In My Bones
The Harmonizing Four: Sometimes I Feel Like A Motherless Child / We're Crossing Over / The Lord's Prayer
The Dorothy Norwood Singers: He's A Shelter / The Failure Is Not In God, It's In Me / Searching,
The Gospelaires of Dayton Ohio: Rest For The Weary / I Feel The Spirit
u.a.
Dauer: 46:37 Min
Festival of American Folk & Country Music 1966
The New Lost City Ramblers: Sourwood Mountain / Rambling Boy / Liza Jane
Roscoe Holcomb: Born And Raised In Covington / Barbara Allen / Old Smoky
Tracy Schwarz: Sally Ann
Cyprien Landreneau: La Palle d' Eronees / La Valse des Opelousas
Cousin Emmy: Going Down The Road Feeling Bad / Turkey In The Straw / Give The Fiddle A Dram
Stanley Brothers & Clinch Mountain Boys: How Mountain Gals Can Love / Rank Stranger
Square Dance: Grey Eagle
u.a.
Dauer: 43:46 Min.

Info zu DVD 1: Legends of Folklore Argentino, Flamenco and Música do Brasil
Info zu DVD 3: Legends of the American Folk Blues Festivals