The musical master's 75th birthday was celebrated with a concert,
whereby artists from various countries came to perform their interpretations
of Mikis Theodorakis' "all time greatest hits".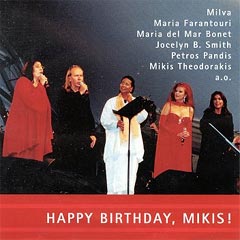 Milva, the star of Italian music, the solid rock of Greek music Petros Pandis, the American Soul-Singer Jocelyn B. Smith or Maria del Mar Bonet, the cult figure of Catalan music, Peter Migunow, one of Russia's greatest talents in the field of classical song and of course Maria Farantouri, the "Priestess".

This live recording is the stunning document of the birthday celebration. Besides the songs played live this night, the CD includes three bonus tracks of previously unreleased recordings of Mikis Theodorakis from the Together! concert with the Turkish artist Zülfü Livaneli in Berlin 1997.

Other CDs by Mikis Theodorakis on Tropical Music
CD Mikis Theodorakis & Zülfü Livaneli - Together! (68.987)
CD Mikis Theodorakis & Maria Farantouri - The Birthday Concert (68.974)
CD George Dalaras - Axion Esti / Romiosini (Live-Recording of two outstanding works of Theodorakis with George Dalaras as soloist)

More info on Mikis Theodorakis