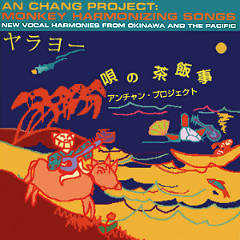 Jun Yasuba and An-Chang Project is one of Japan's best kept musical secrets; in Japan as much as overseas. Indeed, this international release is their first generally available album. Their two CDs, 'Harararude' and 'Yarayoh-Uta no Sahanji', (this CD combines all racks from Harararude and five from Yarayoh-Uta no Sahanji) are mainly sold to friends and anyone lucky enough to stumble upon one of their occasional gigs in Tokyo. Their music is also some of the very best and most unique Okinawan influenced music to come out of Japan in the last decade.

Okinawa is just about Japan's only surviving enclave where people still live and breath music. It's from here, in attitude as much as music that An-Chang Project mostly draw their influence. However, it's the other disparate cultural fascinations and colours that make their music all the more alluring. The songs are mostly traditional Okinawan tunes, but are sung in harmony, by Jun Yasuba and Yoshie Uno, whereas traditionally the vocals are sung in unison. Underpinning those vocals is some searing, psychedelic guitar parts courtesy of Natsuki Hattori. Their CDs can sound at first like a random collage of sounds, with sudden, unexpected rhythm and key changes, punctuated by short acappella, Bulgarian like voices and some seriously weird guitar knob twiddling. Random, but in the end, cleverly cohesive.

However, this quite radical approach is not part of a fashion or ideology to 'update' Okinawan music, but is simply born out of their own desire to naturally express themselves. "All I want to do, is just let the audience feel like they want to sing" says Jun. "We're not from Okinawa, just fond of Okinawan music. We can't and don't want to imitate Okinawan music, because we already have our own history, being brought up in Honshu (the main island of Japan) and we have our own favourite music, so we put everything together that's inside us; our past, hearts and minds to express ourselves. What we did receive from the southern islands of Okinawa, is the notion of the power that people, anybody, can sing and that songs can spring
out from your usual life."

Jun Yasuba was born in Kyoto in 1959 and grew up on the usual diet of 'kayokyoku' (Japanese style pop) and some western music especially the Beatles. She first became interested in Japanese min'yo (folk) as a Junior High School student, after hearing a working song from Miyazaki (in Kyushu, the southern of the main islands of Japan). "There are two types of min'yo, one is a kind of sophisticated style, a bit like enka (the ever-popular, sentimental mix of min'yo with western string accompaniment) but the melody has been changed and it's been adapted to the usual Japanese scale. But the original was totally different and that was the one I loved, in it's original major scale. Everywhere in Japan the same thing has happened to min'yo. Okinawa though is different, they've always had their own special scale."

Most things about Okinawa are different. It's food, culture and music all reflect the island's strategic location as the trading crossroads between Japan, China and south east Asia. The sanshin, the three stringed snake skinned lute at the heart of all modern Okinawan folk music, is derived from the Chinese sanxien, and arrived in Okinawa about 500 years ago. Okinawa was the scene of one of the bloodiest battles of the second world war, when a third of it's population is believed to have died, and the island's remained governed by the US until 1972. During this time a new music scene developed around the military bases with most groups playing rock, soul and r&b covers.

One of the first groups to mix Okinawan local songs with these western influences, was Shokichi Kina and Champloose in the mid-70s, which in turn inspired the first wave of Japanese musicians, such as Harumoi Hosono and Makoto Kubota, to offer their take on Okinawan music.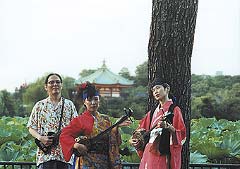 Jun Yasuba too, was first inspired after hearing an early Shokichi Kina and Champloose recording in 1979. "I was fascinated by the music's beat and melody, so in 1980 I went to Okinawa although I had no idea about Okinawan music. It wasn't just the music though, I wanted to know about everything."

She went as far south and west as she could go in Japan, to the island of Yonaguni, as far away from the main island of Okinawa as Okinawa is to the mainland of Japan, and close to Taiwan. "At that time I didn't know the difference between Okinawa and Yonaguni it was just the same to me, but in fact it's very different, including the traditional songs. I learnt some songs from the daughter of the minshuku (Japanese inn) where I was staying. She told me that her mother had taught her the songs and her grandmother had taught her mother. That was when I realised that songs were transferred from one generation to another."

After returning to Kyoto she started to learn the sanshin, before moving to Tokyo. "I happened to see information about a concert by an Okinawan musician called Shinzato Aizo. He also formed a circle of sanshin players, or people just interested in sanshin so I went to that too. I met a lot of friends there including Akemi Mochida and we formed our own group, Shisars in 1986. We were joined by Yoshie Uno in 1991 or 1992, initially as a taiko drummer but she soon started singing too.' Shisars recorded their first and only, album "Kuwagi nu Shita de Biru" in 1996. The CD was produced by and featured the clarinet playing of Wataru Ohkuma, of Cicala Mvta, (whose CD "Ching Dong, the Return of Japanese Street Music" is also released by Tropical Music) However, Jun was not on the CD.

"About 5 years ago I got sick and I couldn't sing. I was very frustrated as I wanted to sing, and after I got a bit better, Yoshie called me and said 'let's practice'." Those practice sessions led to reading of my name. Also it's a kind of slang, meaning 'Hey Guy' and a lot of people mistake me for an 'An-Chang'! I also like the sound of it, so that's why I chose that name." Unusually, Jun doesn't only play the usual sanshin but also it's precursor, the almost identical but larger Chinese sanxien. With vocal duties shared between Jun and Yoshie, with Yoshie also playing sanshin, the other instrumentation is provided by Shisars guitarist Natsuki Hattori, who aside from some psychedelic guitar sounds also helps to arrange the songs.

In addition to that guitar, probably the other most striking aspect of their music is those harmony vocals. "I happened to hear on the radio, at around the same time as I became interested in Okinawan music, a song from the South Pacific, from the Gilbert Islands in Kiribati, 'Ta Berante' which they sang in harmony. Okinawan music though has never been sung in harmony, but that's how I wanted to sing, and I also became interested in Bulgarian Chorus groups." Later, Jun added Japanese lyrics to the song, which they called 'Saru Hamo Song' and is included on this album.

Yoshie Uno further contributes original songs with Jun writing new lyrics to others. Many of the traditional songs originate from Yonaguni." I was always afraid the old people on Yonaguni wouldn't like them, but they were okay about it, I think!" says Jun. Acceptance from those 'old people' is very important to her. She cites them as her major source of inspiration. "We're in a hurry to learn songs from them, because maybe they'd die out if we didn't. Old people can tell us so many things. They're not professional but they have lots of things we have to pay respect to, because they're simply ordinary people who sing. That's harder I think than just only singing for a living."

Jun too, is happy to combine music with working full time, teaching Japanese to Japanese returnees from China. "Through my job I got interested in the Chinese way of singing. I have a firm belief that sounds should be born from where you live or how you live, so my work lets me create."

Obligations aside to music may have limited the amount of recordings and concerts that Jun Yasuba and An Chang Project can undertake, let alone the efforts needed to promote themselves. At least now, with the release of this album, their glorious music is a secret no longer.

Paul Fisher


"If you only buy one semi-okinawan album this year make it this one" Froots