The ninth album from the grat capeverdean Diva - intimate, acoustic arrangements and Cizes magnificent voice. Cesaria Evora is the Voz d'Amor.
Best Contemporary World Music Album 2004!
A Grammy for Cesaria Evora's Voz d'Amor!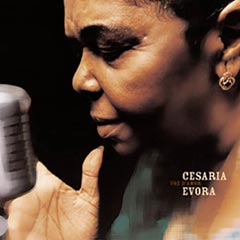 A guitar chord is followed by a few notes from a mandolin before the orchestra comes in. It is only then that a soft, nostalgic voice is raised in song... We imagine dancing slowly to this melody, transfixed by the sweet torment that only a few sensuous ladies of mixed race have the power to inspire. A mirror ball hangs from the ceiling, a few couples are swaying lazily, locked in a tight embrace, and we feel the sweltering heat of the night that is just beginning. Cesaria Evora sings... This is her ninth album.
So what produces the now familiar feeling that we immediately recognise our own sadness in these simple, vaguely-retro songs with their discreetly sensual lilt? "Isolada" is the kind of morna that was the trademark of B. Leza, the poet who brought a superb languor to Cape Verde's musical heritage before his untimely death. It conveys all the despondency in the world, the sorrow of caresses cut short and love lost, but also a great affection for an arid, rough country that forces many of its children into exile.
The thirteen other songs that make up "Voz d'Amor" (Voice of Love), the new record from the Lady of Mindelo, are yet another sweeping declaration of love for São Vicente, one of the Cape Verde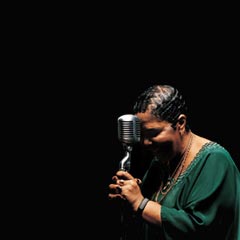 archipelago's islands, familiarly known as "Little Brazil". To understand the passion the singer feels for her land, you simply have to hear "Jardim Prometido" (Promised Garden), the Barefoot Diva's insistent version of "Greenfields", sung in the USA in 1959 by the Brothers Four. Teofilo Chantre, one of Cesaria Evora's regular lyricists, has transformed this simple lament on youth gone by in a much-loved rural setting into an anthem full of hope for the future of a rainless country that will be forever verdant in the hearts of its people: "In our dreams, this garden is not dead / The force of perseverance still tends it / Cape Verde is green in our hearts / Full of love, our hands will make the land grow green".
When the Barefoot Diva subsequently covers "Mar de Canal", a Cape Verdean standard conveying the fear and even resentment that every Cape Verdean feels towards the sea channel between São Vicente and Santo Anton (and by implication, the ocean in general), she knows she is speaking directly to the soul of her compatriots. The lively "Monte Cara" (from the name of the mountain overlooking Mindelo, its peak lost in the mists) with its allusions to the carnival and the Bahia festival is in much the same spirit. As for "Ramboia" and "Nha Coração Tchora", the two tracks written by Manuel de Novas, a former long-distance sea captain, gentleman in a cap and Cesaria Evora's faithful companion from the start, they perfectly illustrate the ambivalence of an island where melancholy constantly turns to the frenzied pursuit of pleasure and back again.
The delicate swing of "Velocidade", the last song that Luis Morais wrote for Cesaria Evora a few months before his death in September 2002, also deserves a special mention. Saxophonist and clarinettist, Morais was the man behind modern Cape Verdean music, assimilating jazz, soul and rock influences and Cuban beats. In the sixties, he popularised the archipelago's music in Europe with his group, "Voz de Cabo Verde", based in Holland. He had just joined Cesaria's band when he fell ill. With mischievous backing vocals and a playful chorus, "Velocidade" is a striking portrait of one of the pretty young girls to be admired on the terraces of Mindelo's cafés. Apart from "Beijo Roubado", a Brazilian standard of the fifties, the other tracks ("Djarmai Di Meu" by Betu, a writer who usually works for Ildo Lobo, and Biloca's eminently danceable "Pomba") are all melodies that have been sung in Cape Verde at one time or another.
"Voz d'Amor" was recorded with musicians led by pianist Fernando (Nando) Andrade who have backed Cesaria on stage since the start of 2000 and appeared on her previous album, "São Vicente di Longe". It also features artists from Cuba, Madagascar (Régis Gizavo) and Brazil (Hamilton de Holanda), who lend a particularly warm sound to the album.
Cesaria Evora does not change, she simply carries on... Now universally recognised as an international star, she still invites us to plunge a little deeper into the soul of the "Petit Pays" (Little Country) that will always be hers.
Yann Plougastel

Last CD:
Cesaria Evora - Rogamar (CD 67880)
Cesaria Evora on DVD:
Cesaria Evora - Live D'Amor (DVD 68345)
More CDs:
Cesaria Evora - Café Atlantico (CD 68805)
The Best Of Cesaria Evora (CD 68999)
Cesaria Evora - Cabo Verde (CD 68986)
Cesaria Evora - Cesaria (CD 68973)
Cesaria Evora - Anthology (CD 5633098)
Cesaria Evora - Anthologie. Mornas & Coladeras (CD 68837)
Cesaria Evora - Miss Perfumado (CD 68835)
Cesaria Evora . Mar Azul (CD 68834)
Cesaria Evora - Distino De Bellita (CD 68833)
Cesaria Evora - La Dive Aux Pieds Nus (CD 68832)
Cesaria Evora - Sao Vicente De Longe (CD 91688362)
Club Sodade - Cesaria Evora Remixed (CD 68846)