Even today Esther Ofarim leads a very secluded life in Hamburg and she needs no mobile, fax or computer to keep in touch with the world. She is a very vivid person, a book full of stories. But she keeps her own stories for herself. She prefers to fill the lyrics and the music of poets, pop musicians and traditional authors on stage with all her great passion and emotion.
This makes her repertoire absolutely timeless in the sense of an independence of trends and tastes. In a review about a concert of Esther Ofarim A. Haase writes: "It was the unpretentious beauty of the evening that brought her the great applause and the almost frenetic enthusiasm of the audience." (Frankfurter Rundschau 31.1.2005)
At the end we were lucky finding out about a concert that she gave in November 2003 in the sold out radio hall of the NDR in Hanover together with the NDR Pops Orchestra conducted by Peter Herbolzheimer. The concert has been digitally recorded and Esther Ofarim and Peter Herbolzheimer knew each other for a long time – just remember her legendary appearance together in the TV show Bio's Bahnhof in the 1980's.
A meeting of legends at Tropical Music? In all cases it was a very vivid meeting. The 66 musicians of the NDR Pops Orchestra weaved a wonderful soft and clear carpet that made Esther Ofarim's voice very present. She switches between genres and styles singing Jewish lullabies alongside with well known tunes from Kurt Weill, Paul McCartney and Mendelssohn-Bartholdy.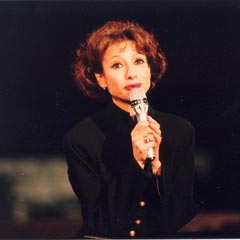 Two names – one orchestra. The NDR Pops Orchestra is one of the most important philharmonic orchestras in Germany. Based in Hanover, it celebrated in May 2000 its 50th birthday, and it is known for its vast repertoire, that reaches from great symphonic oeuvres to the so called music of entertainment (Musical, Scores, Operetta) and also to contemporary music. Also Jazz and Pop music is a part of the orchestras programme and it can be heard since 1998 in several crossover-productions, when it met with stars of the international Rock and Pop scene.
Close to the American counterpart like the Boston Symphony Orchestra for instance, which made itself a name as Boston Pops, the NDR Pops Orchestra is one of the few orchestras of its kind in Europe. It worked for instance with Patricia Kaas, Herbert Grönemeyer, Bobby McFerrin, Al Jarreau, Ray Charles and Randy Crawford as well as with Lionel Richie and Xavier Naidoo.
Esther Ofarim's musicals director Yoni Rechter from Israel took also part in the production as piano player and arranger in most of the pieces, like he did in all the concerts of her during the last years.
On her various internet-fan-sites the great admirers of Esther Ofarim are keeping a record of all her songs, concerts and recordings. They will be very happy to know that her great hit Morning of my life which she sang for the last time in 1969 is part of the programme in Hannover. It needed a bit of persuasion to convince her to perform the song and it remains for the moment the only tribute to the 1960s in her timeless, but not out of time repertoire.
The journalist Dieter Bartetzko, whose review in the Frankfurter Allgemeine Zeitung was the impulse to this CD release, wrote:
The spectators, at the end of this concert, experienced a moon wanderer. Of course, people came in order to encounter after such a long time the very singer that had in no uncertain terms enchanted the German Federal Republic in the 60's. Her charisma that seduced writers in those days into writing rapturous appellations like "young Cleopatra", "Darling from Haifa" or "Rehkitz" (fawn), is virtually unchanged. A delicate woman stands on stage, still wide-eyed, and still as hesitant as ever. Hardly a movement, little conference, now and again a smile. What immediately captivates is her voice: supple, just as capable of thin whispers as of guttural cries, turning into steel or silk. In this way, every song is brought to life, so much, so that the singer by means of gesticulation and mimicry takes on the shape of what she sings. And that is a lot of "shapes": happy and despairing lovers, fighters, timid people, Serenians, imbeciles, witches, streetwalkers, office workers and prima donnas. Nevertheless, all these things finally become what Esther Ofarim is for her audience - a moon wanderer between times and worlds.
The international career of Esther Ofarim started many years ago and it is far away from being at its end. Now she is "BACK ON STAGE". Let's see, what will follow.

Claus Schreiner.