A milestone of German Jazz - first time ever on CD!
HORST LIPPMANN
(Original Liner Notes from 1968 release):
Albert Mangelsdorff tells us: "The title Folk Mond ('Folk Moon') arose in the course of a turbulent evening in the Frankfurt "Jazzkeller" (Jazz Cellar). At full moon a special kind of atmosphere prevails – everyone is somewhat hyper. When we played the piece on such a full-moon night for the first time in the cellar, it created a fantastic whirl. We didn't have a name for it at that stage, but seen folkloristic phrases were used in the particular theme at hand, it was to be something with 'folk'. And then the word 'moon' simply added itself to it automatically on account of the full moon. It is, incidentally, a very casual sort of 'folk-moon'. Street singers who journey throughout the country with dusty trousers and incessantly thirsty throats represent the standard paradigm. And depending on whether their throats are very dry or already somewhat dampened they sing their songs in this way or that. In the same way we also play the particular theme in question."

From this topic emerged the ad lib improvisation by Albert Mangelsdorff, Heinz Sauer and Günter Kronberg. What impresses me most about these off-the-cuff improvisations is the strict observance of form and structure on the one hand, and the sheer straightforwardness of it on the other. As a listener you will never lose your way, you know where you are. You won't see any angry faces breaking sound barriers. The Mangelsdorff musicians are friendly and charming when they embark on a journey in the open countryside, only to return to the street at some stage again. That's why I maintain that today no other ensemble in the world of jazz exists like the Albert Mangelsdorff Quintet. There are groups that play "free jazz" and others that prefer "straight jazz", i.e. harmonically bound jazz. But there are truly few ensembles that can play both free and harmonically bound improvisations in such a taken for granted way – and they've been doing that for years. What fascinates me is the unique and immediately identifiable sound of the quintet. This unique sound is not just determined by the respective instrumentation.

It is ever-present, even during the solo passages, from the very first to last note of this album. After the Quintette du Hot Club de France with Django Reinhardt in the 1930's, George Shearing in the 1940's and the "Cool Swedes" in the 1950's, we can claim to have an European ensemble in our time that has managed to develop a unique and immediately recognizable style. Likewise the originality and diverseness of the compositions are striking and noteworthy. In a particular instance the free, unbound Folk-Moon hobo stands with a charming wink alongside a ballad like "Flower Dream". I know of no other trombonist in the jazz field who can recount a ballad in such a masterly fashion than Albert Mangelsdorff. There are scarcely any jazz musicians who tell a story when they play a ballad. Ben Webster is one them, and Miles Davis … and Albert too.


But we spoke of diverseness: in the ensemble you'll find compact "Plakate" accompanied by a hovering "Mobile" that invites you to fly with them. "Thema mal 3" is arranged with utter fulmination. For years now, Albert Mangelsdorff has had a special fondness for polyphonic music-making. "Rib-degibib-degibbossé", actually written in one word, is dedicated to Albert's friend Franz Eyrich. Franz was regarded as one of the first hippies, at least in Frankfurt, 15 years before people even began to speak of hippies. Franz Eyrich thought up the title. "Rib-degibib-degibbossé" is no hip language and has no particular meaning, except perhaps for a surreal persiflage of certain jazz interpretations. The Albert Mangelsdorff Quintet has been making music together with the same unchanged instrumentation since 1962. This is the quintet's third album. It fluoresces in every shade and hue of every musical tone, like "Folk Mond" and "Flower Dream".

Albert says, in reference to "Folk Mond & Flower Dream" that, compared to its predecessor "Now Jazz Ramwong", it was a recording without any coherent concept. It is simply a product of what the quintet newly developed and tried out. Horst Lippmann wrote correctly in his liner notes, that this album marks the pinnacle of all the works created by the quintet since having been founded in 1962. The post-war jazz scenery was now over and many German jazz musicians had developed a unique musical language of their own that soon brought forth other forms and styles. For this reason the term "Frankfort style" was coined in areas outside of Germany
But Albert Mangelsdorff was at that time the first German jazz musician who was taken notice of and enjoyed recognition in the home of jazz, the USA. All three albums of his quintet were given a rating of 4 out of 5 possible points each by the American journal "Downbeat". It was one of the quintet's LPs, that as a jazz recording from Europe was the first to achieve such a high rating. Gilbert M. Eskine wrote in "Downbeat" at the time:
When something as impressive as a Germanic wind comes sweeping in on the jazz scene, it is quite possible that the most important developments in jazz will transpire abroad.
What Albert Mangelsdorff and his musicians have carved out of the series of German and foreign musicians is their autonomy and sense of self-reliance. The originality has been the result of a musical development that has gone on for years and years, as the musicians have carried it out both individually and, above all, in unison. As a result, Albert Mangelsdorff, who has also frequently played in international instrumentations, felt most comfortably in his quintet. For it was here that he could optimally develop and bring to fruition his musical schemes..
Mangelsdorff shied away from any stylistic categorization of the music of his quintet. Even before Charles Lloyd or John Handy announced their concept of "Total Music", Mangelsdorff wanted the music of his ensemble to be firmly understood as that of five great individualists. Appellations like 'free jazz', 'progressive' or 'new jazz' were every bit as suspect to him as any categorization with nationalist leanings. Nevertheless, although there was for him no specifically 'German jazz', Albert Mangelsdorff had to learn how to live with the fact that the music of his quintet was eulogized all over the world as 'Jazz – Made in Germany". Accordingly the "Daily Mirror" wrote after a concert given by the quintet in Manila in 1964:
"Just like the cars produced in Germany, German jazz is a complete and highly reputable product that's worth exporting anywhere."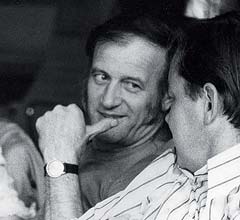 "We went for broke", Albert summed up the years between 1968 and 1970 in an interview with the "Berliner Zeitung" (Berlin Newspaper), "when everything was in transformation anyway. Our music was after all, so to speak, also a form of protest against society, against all those who were having a good time of everything, who were able to report sick and celebrate – while we had to constantly make do with scraps."
Tentative starts with 'free jazz' forms can be heard in "Folk Mond & Flower Dream". A few years later the group fathomed it uncompromisingly as a quartet. Albert's polyphonic performances on the trombone and his solo appearances came later on at his concert at the Munich summer Olympic games in 1972.
While Albert Mangelsdorff later coined the term 'spontaneous composing', the six compositions of this album from 1967 also live from the peculiarly arranged wind movements with two saxophones and trombones, without the use of piano or guitar. Instead there is just bass and drums, breathtakingly dynamic and melodious. Albert was never dogmatic in terms of certain instrumentations. He did not need the piano as harmonic leader. It just happened that when the band formed no pianist was around. Albert was a very liberal bandleader, giving as much as possible space to solo expressions of anybody. On the other hand he was a severe bandleader without being authoritarian. .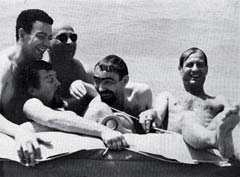 "Folk Mond & Flower Dream" was the third and last studio-LP of the quintet with this instrumentation, which at first carried on as a quartet without Günter Kronberg and then broke up in the Seventies.
"Folk Mond & Flower Dream" took off with somewhat of a delay. In the then most important magazine for the German jazz scene, the "Jazz-Podium", the readers voted it 'record of the year' in 1969, Albert was made musician of the year, the world's best trombonist, the quintet best ensemble and the other musicians received in the individual instrument category likewise first places. Heinz Sauer was given – an unjust – third place.
The six titles of this LP don't reflect the references suggested in the album title. "Folk Mond & Flower Dream" shows nevertheless with what incredible power and energy the Albert Mangelsdorff Quintet managed to make this album a milestone of German jazz history in 1967 in only two recording days amidst both musically and politically turbulent and eventful times..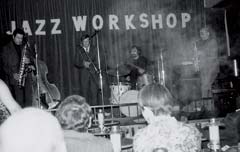 Horst Lippmann sold his label L+R Records, that had been originally distributed by the Frankfurt CBS, to Frankfurt Bellaphon in 1986. That was the time where the CD was beginning to replace the vinyl long-plays. The L+R records catalogue had at that point reached a rather sizeable volume and it was to be expected that Bellaphon would not immediately release all the tapes in CD-form. Suddenly "Folk Mond & Flower Dream" no longer appeared on any lists or in any catalogues. The album recorded in September 1967 was released in 1968, then distributed through CBS and then disappeared from the market. For about 25 years the album existed neither in vinyl form nor as a CD. Albert Mangelsdorff regretted this very much and eagerly yearned for a re-release.
After enquiring at Bellaphon it turned out that nobody could even remember the record and as well as that had neither relevant documentation nor material. It's no wonder that such high prices are offered for unblemished vinyl pressings on the internet!
One of Horst Lippmann's daughters, Sylvia Lippmann, was persuaded to fine-comb all shelves and cabinets in the existing studio of her father, who had died in 1997. In early 2007 the recordings were found.
In the meantime in May 2005 at the Jazzgass' (jazz alley) in Frankfurt the Horst Lippmann Place had been inaugurated. That was filled with an intense load of memories brought by many companions and contemporaries of the jazz scene on that same day.
Among them was also Albert Mangelsdorff, who appeared for the last time in public, then. He died 25th July 2005.
Claus Schreiner