New Beats & Sounds from Trinidad & Tobago:
Calypso/Soca with Rapso, Ragga and Indian Chutney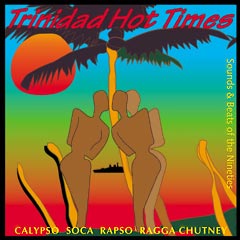 During the preliminary contests for the title of ' Calypso Monarch 1998' in Trinidad & Tobago, one or other Calypsonian will surely be found reminding humorously that 500 years have gone by since Columbus had discovered the islands on his third voyage. And if he does not really excite his audience, they will boo and throw toilet paper rolls until he goes off stage. Even in the 'Port of Spain' the Columbus subject would not gasin much attention, because after 200 years of Spanish government, Trinidad&Tobago had had about 30 different owners. From 1814 until now, the British influence has been the most important - together with the African one brought in by the slaves, who made it very clear during their 1881 rebellion that their social and economic situation had not been bettered after slavery had been abolished. However, when the British went to war against the Boers in South Africa, everybody stood at the colonial power's side. The singers of the satirical 'Kalinda' songs of old, the 'Chantwells', now called themselves Lords and Dukes and their songs Calypso resp. Kaiso. It was then that the Calypso was in his first prime in Trinidad, comparable to the Golden Era of the Argentine Tango or the Brazilian Samba between 1900 and 1940, made possible by the new upcoming media such as radio, records, movies that allowed for the first time to spread events without restriction on time and place. A lot of Calypso recordings wre yet made in the USA where the musicians had been invited to.Calypso is now more than 100 years old. A multitude of rejuvenating cures and modern make-ups could not change its original character: to express one's mind and feeling very directly. As far as feelings are concerned, the often spicy Calypso lyrics are sometimes overrated as being sexually offensive. Thoughts have become more liberal too, after Eric Williams became the first black prime minister in 1956.

With 'Pan Music' , Trinidad donated to the world another exclusive creation that has been ameliorated to breath-taking virtuosity with big steel orchestras comprising up to 40-60 men/women on their former oil barrels ever since the Forthies.

Trinidad & Tobago has never been isolated from its neighbours. Spanish-influenced Aguinaldos and Parangs came from Venezuela, only 10 kms away, while emigrants from Trinbago found a stronghold of Calypso in Venezuela's Callao. Ever since the 19th century, Cuba has been constantly producing wonderful bastards of African and European music as Rumba, Habanera and Son.

In the 50ties, Salsa joined in, Reggae from Jamaica in the Sixties and modern Merengue from Santo Domingo in the Eighties. Trinidad, who had some of the most well-known popstars of the Caribbean with The Mighty Sparrow and Lord Kitchener, suddenly faced increasing competition. There was much ado on the Trinbago island, too: a lot of discussions and fights were going on about regulations and dissonances in Calypso and Carnival competition and organization as well as about amalgamations of politics and economics with C&C.


| | | |
| --- | --- | --- |
| STYLE | ARTIST | TITLE |
| rapso dance | 1 KINDRED | Round The World |
| calypso/soca | 2 DAVID RUDDER | Heaven |
| calypso | 3 SHADOW | Oh What A Life |
| ragga soca | 4 AJALA | Rangkang Katang |
| caribbean fusion | 5 ANDRE TANKER | Creation Of The World |
| soca | 6 RUKSHUN | Carnival Is Woman |
| soca ballad | 7 ELLA ANDALL | Woman Of The Sun |
| jamoo soca | 8 RAS SHORTY I | Trinidad Is A Woman |
| rapso | 9 HOMEFRONT | Get On Bad |
| calypso | 10 TAMBU | The Journey |
| chutney | 11 CECIL FUNROSE | Khirk Na Din |
| kaiso | 12 PRETENDER | Never Ever Worry |
| soca | 13 ANSELM DOUGLAS | Mash Up The Party |
| rapso | 14 HOMEFRONT | Fan Me Pholourie |
| chutney soca | 15 AJALA | So Nanny |

In 1970, a small part of the army triggered a minor revolt which, in the end, inspired a lot of people to analyse the situation and think of possible improvements. During this revolt, Black Power ideology appeared at the surface for the first time, picked up by many Calypsonians as a carrier for the black culture of Trinbago. Their self-confidence thus strengthened, they not only demanded a stronger participation in important political and economic positions but underlined this as well by mixing Black Music from the States with their Calypso.

By adding brass sections, driving bass lines and a quicker upbeat (disco-) tempo from Rhythm&Blues and Soulmusic, the Soca was created: SOul of CAlypso. Interesting to see that the man who had presented this Soca for the fist time in 1975, joined another black movement - the Rastapeople - several years later. The Calypsonian Lord Shorty turned into Shorty the Socaman, and then into Ras Shorty I. Reggae and Rasta religion can also be found on Trinbago. Out of Soca and Reggae a new bastard called Ragga emerged.

Out of approx. 1,3 millions inhabitants of Trinidad & Tobago, 500.000 are of Indian descent.( Their ancestors came to the islands after the emancipation act. ) There are city quarters where Hindu, Spiritual Baptists and members of the Shango cult live together. Such manifold influences are shown in biographies of artists like Ayala. However, the Tassa music (named after the kettle-drums) of Trinidad's Indians was limited to occasions such as marriages or the Islamic Hosse Festival for centuries. This festival, where - unlike its pendants the Arabic/Asiatic world - is of a more carnavalesque character, where people of all religions come together. Tassa drummers and the drummers of the Westafrican shango rites on Trinbago have been exchanging playing techniques and rhythms by helping each other to replace a missing musician. In Port of Spain, a youg man can sing in an Indian choir by day, accompany his mother to the Spiritual Baptists in the evening and play Ragga with his own band at night. In the 90s, this mixture of Tassa drumming, Soca , and Technobeats plus melodic characters of Indian movie soundtracks created for the first time a very young dance music for the Indian population, called Chutney which hit the island's discos and charts around 1995.

Soca star Black Stalin had been elected Calypso Monarch in Carnival 1995 with a tribute to famous Chutney star Sundar Popo. Nevertheless, there have been rivalries between the Soca and the Tassa culture before Chutney in the social structure of Trinidad, where economics are strongly controlled by merchants of Indian descent. Not long ago, the first prime minister coming from this part of the population had been elected. These tensions reappear in the lyrics of Calypso, Soca and Rapso.

Rapso is some sort of Talkalypso, which had been an imitation of the US Rap with Calypso feeling in the early 70ties, but then developed into a genre of its own, thanks to the arrangers, where everything is included from singing to rapping, toastsongs and poetry, Reggae, Dub and Dancehall, Hip Hop and Swing as well as African polymetric drumming . Lord Kitchener about the evolution: in the early Calypso days there were lot of lyrics and less music, in the Soca there is lots of music and less lyrics.' In Rapso the lyrics came back again.

And now have fun with this album: is de time to yuh to wine in de party.....

CLAUS SCHREINER