Sebastião Tapajós' guitar and Gilson Peranzzetta's piano melt together to form a very special stream: slightly rippling, sometimes waving.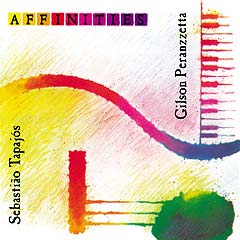 The fourteen compositions on Affinities are flowing through Brazilian landscapes - resting in quiet waters under the moonlight or creating magic musical cascades with a filigree of masterly perfection.

For some years already, the team Tapajós / Peranzzetta has been one of the highlights of contemporary Brazilian instrumental music in the concert halls of Brazil. Both musicians are maestros of classical music as well as masters of crossover - moving between popular and serious music in a genre for which a special name has been created in Brazil: música erudita - sophisticated music.
Sebastião Tapajós studied the art of classical music at the conservatories in Belem, Lisbon, and Madrid - Gilson Peranzzetta studied at the conservatories of Rio and Barcelona.
As it is almost impossible for any musician in Brazil, not to be influenced by the country's folklore and popular music or foreign influences like Jazz and Rock, Gilson Peranzzetta as well as Sebastião Tapajós have already started in the Sixties to prove a success in this field. Peranzzetta was working mainly with bands like Samba Jazz or Central do Brasil while Tapajós made his way as a solo guitarist which brought him to Europe the first time in 1972 on a tour together with Maria Bethania and Paulinho da Viola. His success in Europe finally made him gain attention from his fellow-Brazilians. Gilson, however, was not only working with his bands but also as a composer and arranger for many pop stars of M.P.B. Outside Brazil he has been known so far mostly by his compositions performed and recorded by Sarah Vaughn, Quincy Jones, and many Brazilian artists.
On some takes, guitar and piano are joined by other masters of Brazilian instrumental music: Sivuca, a multi instrumentalist from northern Brazil who is well known in Europe and the USA (where he worked with Belafonte a.o.). Sivuca can also be heard on his Tropical Music album Norte Forte (CD 68.959). There is also Rildo Hora from Rio, a gaitista of supreme quality, as well as Altamiro Carrilho, Choro and classical musician from Rio who has already become nearly a legend among the flutists of Brazil.
CLAUS SCHREINER©1996

Artists on Sebastião Tapajós & Gilson Peranzzetta - Affinities
Sebastião Tapajós - Guitar
Gilson Peranzzetta - Piano
Guests:
Sivuca - Acordeon (1/7)
Rildo Hora (Harmonica 3/9)
Altamiro Carrilho (Flute 5/12)
Recorded 1995 at MM Estúdios, Rio de Janeiro, by Renato Pinto

More CDs by Sebastião Tapajós on Tropical Music:
CD Sebastião Tapajós - SantaRio (68.802)
CD Sebastião Tapajós - Xingu - Guitar & Percussion (68.907)
CD Sebastião Tapajós - Sambas & Bossas (68.930)
CD Sebastião Tapajós - Brasilidade (68.945)
More info on Sebastião Tapajós