The language spoken in Haiti is Haitian Creole, enshrined in the 1987 constitution as an official language alongside French. Most of the Haitian artists sing in Creole. Haitian Kreyól is a blend of African languages with French, which developed since 1697, when the island Hispaniola was divided into French and Spanish parts

In the summer of 1995, almost 300 years after this division and after the dictatorship of the Duvaliers and the end of the military regime that followed Aristide, the first Festival Bouyon Rasin took place in a soccer-stadium at Port-au-Prince. For many artists this was the first public appearance on stage in a long time. Many of the singers had never been recorded or had been out of the country for years. The years of hidden musical activities and the return of emigrated stars like Jean Wyclef made this festival a strong demonstration of Haitian culture, political and social ideals. These live recordings reflect the hard times - there are some wrong keys, some mistaken entries, a broken microphone - but such is life in Haiti.

Musicians like Jean-Baptist Nemours or the mini-djazz bands had been of great influence in previous generations. Many remained in Haiti in the years of dictatorship, while others like Tabou Combo went to the USA for exile. Papa Jubé, Tchaka, Pelen, Rara Machine, John Steve Brunaché, Boukan Ginen, Boukman Eksperyans - they all live nowadays in Canada or the U.S.A. So does the producer and head of the Bouyon RasinFestival, Jean Jean-Pierre. He started his musical career 1970 in Port-au-Prince with the Bossa Combo and emigrated in 1974 to the USA where he works now as musician, arranger and journalist for the "Village Voice". Bands remaining in Haiti like Foula or RAM can't find enough jobs to make living out of music. For that reason some
bandmembers are working in the USA with other groups.

Beside Rasin and Konpa there are two other terms, which are well-known and closely linked to Rasin Music: Rara and Vodou. Rara has its roots in the Haitian syncretistic vodou, the power of which was misused even by 'Papa' and 'Baby Doc'.

Rara is a rhythm, party and group, that come to life primarily in the week before Easter and to dominate the streets: African drums, chanting with call and response, music of vaccines(Vaksin, bamboo-tubes played like small didgeridoos) and trumpets, made out of sheet metal reminiscent of cut fuel-funnels. These are typical elements of this mostly folkloristic and rural scene, banned by catholic priests in past centuries as 'music of the devil'.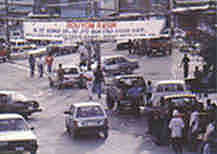 Vodou is up to these days something full of secrets, even more complex than Afrobrasilian Candomblé or Cuban Santeria. Vodou is very present in Rasin rhythms like Ibo, Congo, Yanvalou, Mayi, Petro or Djoumba. It is a focus of life for many Haitians, for whom this music is made for and for whom the festival "Bouyon Rasin" was organised.

Bouyon Rasin had no follow-up festival since its first presentation in 1995, making it even more important to release pieces of this festival as a historical document.

CLAUS SCHREINER (C) 1997

MORE INFOMATIONS IN BOOKLET, WRITTEN BY GAGE AVERILL

* Rootssoup by Gage Averill


Index of BOUYON RASIN :

1. RAM Ezuli (Kandjo)
2. BOB BOVANO M'pa dwe (Bob Bovano)
3. SIMBI Nou la (Stan Kalman)
4. BOUKAN GINEN Pale Pale'w (Eddy Francois & Evans Seney)
5. WAWA & RASIN KANGA Priyh Ginen (J.M.Forterey)
6. PAPA JUBE Anbago (Papa Jube)
7. BOUKMAN EKSPERYANS Legba (D.Beaubrun)
8. CELIA CRUZ Gede Zaryen (Trad.)
9. CELIA CRUZ Bemba Colora (José Claro Fumero)
10. KOUDJAY Rara (Sanba Kessy)
11. YANICK ETIENNE Lakou (Trad.)
12. FOULA Kaminizye (Wilfrid Lavaud)
13. MARTHA JEAN-CLAUDE M'ap Prale (Trad.)
14. WYCLEF JEAN with Papa Jube Band Improvisation (Wycleff Jean)
15. JOSE 'EL CANARIO'ALBERTO La Gitana ( Trad.)
16. SANBA ZAO & SIMBI YO Djaye (Sanba Zao)
17. RARA VODOULE Rara Vodoule (Rara Vodoule)
18. KANPECH Pale Yo (Fredo)