RA-ROCK !
Spicy worldmusic of Haitian roots played by
multicultural singers & orchestra in Montréal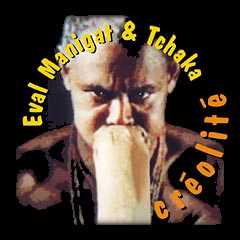 Born in Plaisance, Haiti, where Africa still lives in the pulse of everyday life, Eval Manigat's life began taking piano lessons at age 14 from the woman who later became his mother-in-law. He began his professional musical life as a drummer for the Haitian compas group PALACE, but early in his career, 1962, Eval discovered his love for the bass "when the group needed a bass player and the band-leader saw that I had the attitude to play bass.." As a bassist he was a founding member of the very successful Tropicana Orchestra and since 1969 also bassist and musical arranger for Webert Sicot who is recognized as one of the foremost musical directors on Haiti.
In the end of 1971, Eval moved to St.Martin to become co-leader, bassist and vibraphonist for the Dutch Jan Master Combo which toured all over the Caribbean. At that time he became more and more impressed with the versatility of the African musical culture and vibrating new form that emerge when it is fusioned with European classical and folk traditions.
But it is in North America, particularly in Quebec, through diverse collaborations in jazz, funk and salsa, that Eval's musical vision found the space to express itself. He arrived first in Montreal in 1973 and played in many bands, put together VACCINE in 1978, a Haitian compas band, and shortly afterward, he founded a group that combined both Haitian compas and traditional Quebec folk music: BUZZ. This group released the album 'Buzz Vèrité'. It was a very happy accident that brought Eval together with Tim Jackson, the amazing jazz pianist who was playing at the time with the equally amazing Karen Young, vocalist. Tim and Karen introduced Eval to the rudiments of jazz and together they formed the group YOUNG LATINS. This success led to others. Eval contributed five compositions to the album 'Contredanse' , recorded by the YOUNG-DONATO duo. This recording won the Félix Award for Best Jazz Recording in 1988.
It is the versality of Eval's musical development, as bassist, percussionist, vibraphonist, composer, arranger and leader, that is the substance and weight of Eval's musical baggage. Eval's experiences in fusing musical elements from different cultural traditions came to full fruition in 1990 with the formation of TCHAKA, combining seeds of Quebecois, Cuban, Indian, Jamaican and Haitian culture. In Haitian Creole TCHAKA means a dish composed of a variety of ingredients: "a melange of Rara, Rara-Rock, cadence rampas, compas, beguine and salsa, tied together by a driving ´, funky horn section which is definitely North American." (The Canada Council Jul.'95) In Montréal TCHAKA 'reunites people from a vast musical horizon to create a sumptuous salad..'(L'Actualité Aug.'90) TCHAKA plays live as a 13-piece-big band that includes players from Cuba, Greece, Martinique, Quebec and Haiti.
TCHAKA's music reflects Eval Mangat's pluralistic musical vision: with Caribbean fusion as a rhythmic foundation, this music is painted in all the colors of North American funk, pop. Rock and jazz traditions. "...The day would come when Canadian music sound less like Bryan Adams and more like say, Eval Manigat, a Haitian-born Montrealer with a vibrant African-roots sound."(N.Jenning, BILLBOARD, Feb.'95) Adds Eval: " A new language and sound has developed in Montreal. Though we play salsa, compa, or merengue,we are now Haitian-Canadians, Dominican-Canadians, and Cuban-Canadians, and this meanswe have something to say about Canada in our music. When we play rara, we do it in a Montreal style with some rock and jazz thrown in." (HOUR, May '95)
Part of this album (1-6) was released in 1995 under the title AFRICA+ which won the 1995 Canadian Juno Award for Best Global Pop Album. Titles 7-3 were recorded in 1997 and released under album title 'Back to the Nation'.