44'/Booklet 20 p../English Bio/ Songlyrics Original & English

A confident, modern and panafrican, musical spirit
STEWART SUKUMA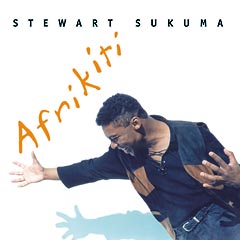 AfroLusAmérica is the area of African and Afro-American cultures with vestiges of Portuguese influence, which we had introduced with our selfentitled sampler as well as with many album releases with artists from Cab Verde, Angola and Brazil. With Stewart Sukuma we will be for the first time bringing out a Mozambican singer and songwriter in Europe.

Born 1963 in Mozambique, Stewart Sukuma has won in 1983 the much sought after "Ngoma-prize" for his first recordings, and has quickly become one of the most popular musicians in Mozambique. In 1995 Sukuma moved to South-Africa, where he, together with other musicians from Mozambique and South Africa, produced the album, "Afrikiti". At the end of the eighties, Sukuma was already touring Europe together with the Marrabenta Stars appearing at renowned venues like the "Beat Apartheid! Festival in Berlin. In Africa he shared the stage with Youssou N'Dour, Miriam Makeba and Hugh Masekela. "Billboard" gave him the same standing as Papa Wemba and other highly acclaimed, African musicians.

Sukuma combines African and Brazilian rhythms in seven different languages. His music is deeply rooted in the traditional, musical culture of Mozambique, but different to the typical Marrabenta and Soukous styles, Sukuma has developed an invigorating, expressive style of his own. With "Afrikiti" Stewart Sukuma reached new, musical highlights in the African pop-music scene. Afrikiti represents a self-assured, modern, panafrican musical spirit. The lyrics on his CD are sung in seven different languages: Alongside the idioms and expressions inherited from the colonialists, the other languages include English, Portuguese, Coti, Chuabo, Swahili, Zulu and Tsonga. Every song conveys an unmistakably progressive message. Excellent musicians and soloists like Hugh Masekela round off nicely the musical quality of this debut-album.

In June 1998 Stewart Sukuma will be giving 3 concerts at the EXPO 98 in Lisbon as a representative of Mozambique. More shows are planned.

Detailed biography see booklet of CD

Michael Kegler (c) 1998 TROPICAL MUSIC Copyright beachten.