The compilation on behalf of the 50th birthday of Bossa Nova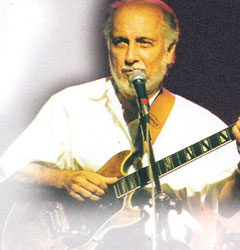 Most of the interpreters of Bossa Nova were themselves either virtual co-authors of the hot phase or at least lived through it. In the forefront of this scenario was the guitarist and composer Roberto Menescal (born 1937), who in those days managed a music school with Carlos Lyra, then Bossa Nova guitarist virtuoso, who was later for many years chief producer of Polygram Brazil and is today more active than ever. Menescal's name is associated in one way or another with the most of the artists presented on Bossa Cabana. In this album he accompanies two generations of singers: there is Wanda Sá who after a long marriage with Edu Lobo continued her career of Bossa Nova nights and now appears in concerts with Menescal. And there is Cris Delanno from the young generation who in her early years already sang in the Teatro Municipal Children's Choir in Rio, toured for a while with a gospel choir in the USA and thanks to her producer Roberto Menescal recorded her first album. Besides that Cris Delano is known as an authoress of a book on singing techniques. Her song on our album ('Estrada do Sol', track 4) is one of those early Bossa Novas by Jobim. It was composed already in 1957 with lyrics by Dolores Duran.
The vocal group Os Cariocas was founded in 1942 by the brothers Ismael Neto and Severino Filho. It played a major role until 1967 and took part in the recording of Jobims Sinfonia de Rio de Janeiro in 1954 which was written after an idea of poet Billy Blanco. It was a hymn to the mountains, the sun and the sea of Rios Baia de Guanabara and Jobims first success with his mixture of Canções da camera and Samba Canção. Os Cariocas are back again on the scene now, with the original members Severino and Quartera and two new members, Neil Teixeira and Eloí Vicente. While everywhere in Europe 1963 the song 'Blame it on the Bossa Nova' invented a Bossa Nova dance which never had been seen under the Corcovado, Jobim and Vincius had written Só danco samba (track 5) in 1962:
So danço samba so danço samba
vai, vai, vai, vai, vai
So danço samba so danço samba vai

Ja dancei o twist atè demais
mas não sei me cansei do calipso ao cha cha cha

(I just dance Samba, I danced Twist all time, but I don't know, I am tired of all between Calypso and Cha Cha)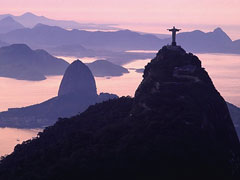 Marcela Mangabeira came to Rio from Recife via Mato Grosso already with the reputation of being a great young, up-and-coming, new discovery. Marcio Menescal, Roberto's son, took her on the first European tour with his Bossacucanova group. Since then she has been with them. In 'Corcovado' (track 9) from the year 1960 she sings reveries by Tom & Vinicius set beside a night-time view of the lit up statue of Christ high above Rio de Janeiro.
Claudia Telles (born 1957) is a child of Rio's south zone and daughter of a famous mother, Sylvia Telles, who during the Bossa Nova period was the irrefutable queen of these new songs. Her career seemed more important to her, so Claudia ended up staying with her grandparents. Shortly after her European tour with the Festival Folklore e Bossa Nova do Brasil Sylvia was killed in a tragic car accident in 1966. Claudia was 9 then, her mother 31. Claudia Telles began her career early on as a background vocals singer for many stars of the MPB. Until today she dedicates much of what she does to the memory of her mother. In 1977 she recorded her mother's greatest success 'Dindi' (track 8) for the first time and a second time on an album she completely dedicated to her mother in 1997.
Maria Creuza (born 1944) is an icon of the modern Música Popular Brasileira. She is a native Bahian and experienced the Bossa Nova period as a local radio singer there until she came to Rio as the wife of Antonio Carlos (a member of the Antonio Carlos & Jocafi duo) and became part of the post-Bossa Nova scenery. For many Brazil fans her recording with Vinicius and Toquinho in concert in the La Fusa in Buenos Aires is unforgettable.


Marcos Valle (born 1943) was previously together with his brother Paul Sergio Valle, part of a well known team driving the second wave of Bossa Nova artists. Walter Wanderley made their 'Samba de Verâo' (track 11) very popular in the USA. Several years ago his newly mastered recordings and remixes suddenly became hits in European dance clubs.
Pery Ribero (born 1937) is the son of the great composer Herivelto Martins and the singer Dalva de Oliveira. In 1959 he still was a television camera man but from 1960 onwards had one single-LP success after another: 'Manha de Carnaval' (the film "Orfeu Negro" had been released in 1959),'O Barquinho' and others. He wrote 'Bossa na praia' (track 14) in 1963, shortly before he was the first to present 'Garota de Ipanema'. Jobim with his 'Samba do Aviâo' (track 3) musically transposed his feelings of happiness at approach and return to Rio de Janeiro. In 1966 Ribeiro founded the group Bossa Rio with Sergio Mendes.
Danilo Caymmi (born in Rio 1948) is the youngest son of the great Bahian folk singer Dorival Caymmi and has been in the scene for decades like his brother Dori. His father (born 1914) wrote about the composer of Eu sei que vou te amar (track 6, 'I know I will love you'): "If you put Antonio Carlos Jobim in a solemn civic ceremony, wearing a tie etc., raising a severe 'national banner', what you will see is Tom flying a wonderful colourful kite."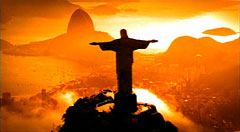 Since the 1960's Silvio Cesar has likewise contributed to the revival of urban samba with many successful compositions. Tito Madi (born in 1929 in the state of São Paulo) had written successful songs even before the Bossa Nova era. Some of them (like 'It's Raining Outside') have been recorded by The Platters with Della Reese in the USA. Madi was also around when the clique, together with Jobim, Vinicius, Lyra and Menescal, met at the apartment of Nara Leão, who had earned herself the title "The Bossa Nova Muse", but who unfortunately died young. There they pottered around with their new music. The apartment was situated in the Avenida Atlantica at the Copacabana, where 50 years previously probably the last opossums and armadillos wandered about. Maybe they fled to Lake Titicaca.
Claus Schreiner