A birthday collection of the most famous Bossa Nova tunes sung and performed by musicians from the first an second generation of Bossa Nova.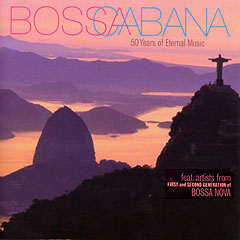 Twenty two years ago one of the very first vinyl albums released by Tropical Music was a selection of the original Bossa Nova recordings 1959-1961 of João Gilberto, celebrating their 25th birthday. It was the first time ever these original recordings were released in Europe! We are proud to be back this time, 50 years after everything begun, with a selection of eternal songs performed by the creators of Bossa Nova and their children.
Around 1856, more than 150 years ago, the beaches south of Rio's centre were practically still in their natural state. A few fishermen's huts, opossums and armadillos shared the huge, mainly forested coastline. Fifty years later in 1906 the first tunnels had already been built in areas in close proximity to the city, like Leme and Copacabana. Here and there a hut (or cabana) appeared a restaurant, weekend houses of well-to-do Cariocas and a little house from which the first telegraph cable that connected Brazil and Europe led into the sea.
The beach was once named Sacopenapã (The Soco Bird Trail) in the language of the Tupi Indians until merchants brought a copy of the Virgin Mary from a chapel on the Copacabana peninsula in the southern part of Lake Titicaca, the bordering area between Peru and Bolivia. They found a place in the little Nossa Senhora da Copacabana church, which, incidentally, is no longer there. Its name, however, remained and as a result the entire area was given its name from Lake Titicaca. In the Quechua language it is supposed to mean something like "glance at the blue", for the Aymaras "Copakawana" means someone who throws a valuable stone. Both names were somehow relevant: the far glance into the blue ocean and the huge quantities of stone and concrete that were taken for building purposes. Like a gigantic palace in the middle of a relatively underdeveloped area the famous Copacabana Palace was opened in 1923 in its art-deco style and a bar that was one of the most important nightspots in the fifties for the young Bohemians of the South Zone.
It was 50 years later, 1956, that the Bossa Nova was created here – somewhere in the bars, apartments and cafés of what subsequently became a densely built up area of housing blocks between Leme, Copacabana, Ipanema and Leblon.
1956 was the year in which the great Brazilian poet Vinicius de Moraes met the former student of architecture Antonio Carlos Brasileiro de Almeida Jobim. When Jobim was asked to write some songs, his reaction was: 'E tem um dinheirinho nisso? / Do I get paid for it?" On September 25 Vinicius' theatre play "Orfeu da Conceição" was staged, accompanied with the first songs by Tom and Vinicius, which at that time were to be heard in stage set by Oscar Niemeyer as samba-canções. Marcel Camus used this material to make the famous film "Orfeu Negro".
1956 was also the year that a young man from Bahia by the name of João Gilberto returned to Rio after a long time dealing with a personal crisis. Gilberto had earlier observed washer women on the banks of the Rio São Francisco balancing baskets on their heads and with the song 'Bim Bom' (track 18) he created a balanço (swing), that was to imitate in a rhythmic fashion the swing of their hips and steps. He also discovered a new way of singing which was in no way a belcanto, but rather a form of slight nasal voice lineation. That basically was the first Bossa Nova but neither João Gilberto nor the musicians in Rio knew about that at the time. (In 1963 Tom and Vinicius created a similar memorial with the song 'Garota de Ipanema' (track 7) – celebrating a young girl who they watched in admiration almost everyday from their favourite café in Ipanema.)
Something new could be felt in the moist Atlantic air over the Rio's south zone since the mid 1950's at the latest. But nobody knew anything of it. Antonio Carlos Jobim and his friends experimented with modern sambas that were to be different to the effusive songs of Carmen Miranda or the sambas of the carnaval. There were more than enough role models and forerunners of poetic soft sambas with guitar accompaniment: composers from the samba schools like Cartola, Nelson Cavaquinho, Lupiscinho Rodriguez or Noel Rosa had continued what geniuses like the black Pixinguinha had begun with ballads like 'Carinhoso' that until today have still not been forgotten. Jobim himself had written 'Teresa da Praia' in 1953, a kind of chamber musical samba canção which became a great success.
Another returning soul: In 1956 the producer, singer and composer Aluísio de Oliveira returned from the USA back to Rio and became artistic director of the EMI Odeon. He had left for North America as the manager of the vocal group Bando da Lua with Carmen Miranda and had produced films for Walt Disney. He was soon to become Brazil's most important producer of shows and records and remained so for decades.
And now João Gilberto was back in Rio as well and sang his 'Bim Bom' song to everyone, providing his own guitar accompaniment. He looked for new jobs, came into the bars where his friend Jobim played and used their breaks for short interludes. 'Bim Bom, Bim Bom, é só isso meu Baião....' and soon he was beckoned into the recording studio as guitarist to record with the Grande Dama of samba canção Elisete Cardoso. 'Chega de Saudade' was recorded with Jobim's arrangement but was strongly influenced by Joao Gilberto's novel form of guitar accompaniement. It became nothing more than a promotional version with 2,000 copies and shortly thereafter João Gilberto (1958) sang this samba himself and recorded it on a single, B-side: 'Bim Bom…', released of course at Aluísio's EMI Odeon. (It was nearly 30 years later that João Gilberto filed a lawsuit against this company, which in consequence banned all of his recordings made since 1968 at EMI Odeon from the market.)
In a way the styling of Jobim's harmonic modern melodies and Vinicius' song lyrics was perfect: an emphatically toned down song and new rhythm on the guitar combined with the swing-balanço of an entire samba batucada, which João Gilberto reduced to the beats of the little tamburim. This music appeared to only imply everything, not to overload anything and even the words were presented in a playful manner. 'Samba de uma nota só' (track 12) first appeared in 1960 at the peak of the Bossa Nova wave in Rio and represented an on-going continuance of Gilberto's playing around in 'Bim Bom', as the words are sung in only one tone until the text finally announces other tones. In 'Desafinado' (track 1) Jobim's song writer Newton Mendoca let everyone know something in 1958: "If you think that you can criticize me for being unmusical because I sing out of tone, then I'm afraid I must say that that is what Bossa Nova is and that is completely normal…" It was based upon the saying 'burro como cantor' (as stupid as a singer). Jobim: "Desafinado is a critic of a kind of specialization. There are people which sing well tuned but are very stupid. Others are out of tune but very intelligent…Someone could sing very beautiful but be a simpleton."
That was the official premiere of the Bossa Nova which managed to attract attention in Europe only indirectly via North America. Caterina Valente was performing in Rio and travelled directly to the USA for one of her appearances in the Perry Como Show and introduced the new songs. Musicians from the USA performing in Brazil often brought the music back with them as well and before you knew it Bossa Nova artists were to be seen on the stages of Carnegie Hall in 1962, but more often as nameless stage members in Bossa Nova versions of Jazz stars and as inexperienced composers, whose music rights were stolen from them in both Rio and New York. Brazil was a developing country at that time and likewise in respect to copyright protection laws. Basic human rights were also eliminated by the military that in a coup d'état in 1964 seized power. It is possible that the Bossa Nova, despite all its playful qualities, had to give way to the politically loaded songs of the time that depicted Brazilian reality as it was. It had to relinquish its superior position to the traditional sambas and numerous music forms of the hinterland that intellectual musicians dug up and superimposed Bossa Nova structure upon, until finally Brazil was mowed over by the Beatles and the Stones and hashish and flower power. At that time most Bossa Nova artists and composers long since got on well.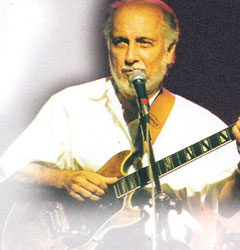 Astonishingly Bossa Nova experienced a relatively short blossom in Brazil (1958-1964), but had an unbelievable after-effect. At least one generation of young Brazilian artists stood on the stage for the first time singing songs from João Gilberto. The music school Menescal & Boscoli was overflowing with young guitarists who wanted to play like João Gilberto. The Bossa Nova survived unscathed the songs of protest (from 1964), the wave of neofolklore (from 1965) and the Brazilian rock 'n roll, together with the tropicalismo of the Baianos (from 1967) and all the other musical movements that followed - at least in Brazil. For some years now there has not only been electric bossa, remixes and drum'n bossa versions. The old Bossa artists from earlier days who are still alive and their children and grandchildren are still singing the old songs, which for a whole generation of mainly middle class Brazilians represent the life energy of their youth (see track 1).
In the USA Bossa Nova wasted away in jazzy, plush ambiences – a just punishment for the fact that the Jazz faction stretching from L.A. to Berlin and really only knowing Bossa Nova from musicians like Stan Getz or Herbie Mann, made a Brazilian variation of cool jazz out of it, e.g. you would say Bossa Nova was practically American. Astrud Gilberto must be seen in this connection, she started her career as a singer in the USA as she was encouraged by Stan Getz to sing a few takes in a New York studio, which she never regretted.
Antonio Carlos Jobim, who wrote most of the world famous Bossa Novas, always denied this Jazz influence on his own music and Carlos Lyra even wrote a scathing song about this ('Influênca do Jazz', track 16). It may be that Jazz musicians and critics have out of simple lack of knowledge wrongly interpreted the Jazz affinity of some Brazilians like Baden Powell or Johnny Alf. Johnny Alf was a singer and pianist in Boates (night clubs) like Dick Farney and both had Blues and Jazz musicians as their role models and their interpretations were influenced by Jazz and they made bluenotes and disharmonic elements familiar to Jobim and others. Jobim must have known this, as he had studied with H. J. Koellreutther who was establishing European modern music in Brazil. Later on, with names like Edu Lobo, the Zimbo Trio, Hermeto Paschaol a strong interest in Jazz arose.
The Jobim-Vinicius-Gilberto trio and many other Bossa Nova creators have presented with Bossa Nova modern samba canções for a global audience, many of which are to this day unforgotten. Some of their most beautiful moments are compiled on this CD.
More info on the artists featured on Bossa Cabana. 50 Years Of Eternal Music