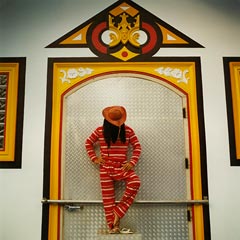 Antonio Carlos Santos de Freitas alias Carlinhos Brown was born in 1962 in Candeal Pequeño, a little neighbourhood in the area of Brotas, in Salvador de Bahía (Brazil). His parents, Renato and Madalena, didn't manage to persuade him to learn a good trade but Osvaldo Alves da Silva, the (remove) Maestro of the Bongo, introduced him to the rich tradition of Brazilian folklore and percussion.
At the beginning of the 1980s he started to learn music recording and production techniques, as well as commencing the task of compiling a collection of the percussions and rhythms from the Bahia area. And he adopted his first pseudonym: Carlinhos Brown, inspired by Box Brown, a black man who, in the United States of the 19th century, fled from slavery hidden in a box
In 1985, Carlinhos Brown joined the band of Luiz Caldas and Acordes Verdes, playing and arranging percussion. The band's soloist, the Bahiano Luiz Caldas, wrote the song Visão do Cíclope along with Carlinhos. The song became a radio hit and started the phenomenon of Axé Music in Bahia. At the end of that year, 26 of his songs were being played on radio, for which he won the Trofeu Caymmi, the most important musical award in Salvador de Bahía
A year later, Carlinhos Brown became a member of Caetano Veloso's band, and in 1989 the album Estrangeiro was released, containing Meia Lua Inteira by Brown. The album was his international baptism as a musician, as he played on tours with João Gilberto, João Bosco and Djavan. Later, Carlinhos formed the band Vai Quem Vem, which recorded five songs for the album Brasileiro by Sergio Mendes, which won the Grammy for Best World Music Album in 1992. That album included the song Magalenha, the inspiration for Reggaeton.
The band Timbalada was formed in 1993 by Carlinhos Brown for him to be able to play what he called samba-reggae, a style which was popularised by many important Afro-Brazilian musical groups in Salvador de Bahía. In 1996, Carlinhos Brown released Alfagamabetizado, his first solo album. It was critically acclaimed and his concerts helped consolidate and show off his charisma and love of performance, an explosive mix of modernity and tribalism.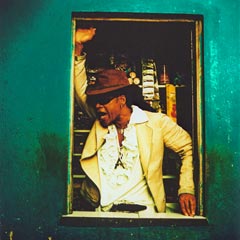 In 1998 followed Omelette Man, on which came a change of style, where Brown introduced string arrangements and sang in English. Three years later, Bahía do Mundo, Mito e Verdade completed his first trilogy of albums. It was a meeting of Brazil and Africa, rock and jazz, pop and contemporary music
In 2002 Carlinhos Brown formed Tribalistas together with Marisa Monte and Arnaldo Antunes and their album won a Latin Grammy, sold a million copies in Brazil, became a talked-about album in Europe and has still not lost an ounce of its relevance
In 2003 he investigated the relationship between Brazil and Cuba on the album Carlinhos Brown é Carlito Marrón and in 2004 along with Bebo Valdés he inspired the film El milagro de Candeal (directed by Fernando Trueba and winner of the Goya Awards for Best Documentary and Best Song) and he looked to electronic dance with the album Candyall Beat with the help of DJ Dero.
Ten years have passed since his debut as a solo artist, and now Carlinhos Brown releases A gente ainda não sonhou. After a long time aboard his carnival float, the Camarote Andante, bringing celebration, dance and carnival to half the world, he now offers us the songs of his new album. Pure Carlinhos Brown.

More Info on Carlinhos Brown - A gente ainda não sonhou