Carlinhos Brown – our man in Bahia and the new studio-recording from this Brazilian mastermind.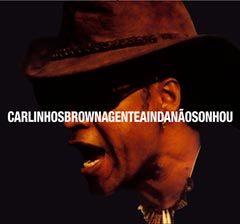 A gente ainda não sonhou is the new album by Carlinhos Brown, due for release in June 2007. From a musical mind as exuberant as this Brazilian artist, you could be forgiven for not knowing what to expect. Recorded between March 2005 and September 2006 in his Ilha dos Sapos studio in Salvador, Bahía (Brazil), Brown produced the record, wrote all the songs, designed the album's artwork and played the majority of the instruments: bass, guitar, home-made electronic percussion, drums, bongos, conga, piano, surdo, agogô bells, keyboards, timbau, berimbau organ...
The album kicks off with the song O aroma da vida in an admirable fashion, as if announcing that surprises are on their way; that we should expect anything and everything. Brazilian percussion mixed with electronica; psychedelic strings and booming beats; primitivism and sophistication. A great song, and one of the four on the album written exclusively by Carlinhos Brown.
Mande um email pra mi ----(mis) follows, and has a delicacy which, in different forms, recurs throughout the album. Acoustic, simple, earthy, with a technically naïve feel, as if a music box was operating a computer. Everybodygente is pure sensuality in the best Brazilian tradition. The track was composed by the "Tribalistas" Carlinhos Brown (who plays all the instruments), Marisa Monte and Arnaldo Antunes, on this occasion together with Seu Jorge. Aos teus olhos is dedicated to Yemanjá (female deity of Candomblé, the Afro-Brazilian region) and includes the collaboration of the great Jaques Morelenbaum whose magnificent string arrangements adorn one of the most lyrical songs on the album.
The album continues with Loved You Right Away, a song which is an old friend of Carlinhos Brown, rhythmical and sung in English. Goodbye Hello evokes the story of a wartime deserter, with Carlinhos once again in charge of almost all the instruments. Marina dos mares (remove names) is dedicated to Dorival Caymmi and fuses electronic sounds with a radiant rhythm. It is performed by the group Mar Revolto and was written by Carlinhos Brown, Géo Benjamin, Octávio Américo and Raul Carlos Gomes.
Pedindo pra voltar by Carlinhos Brown and Alain Tavares, is the only song on the album recorded in Madrid, with Javier Limón as additional producer, Niño Josele on guitar and the overridingly Brazilian air of a rumba-tango that hails straight from Bahia. A gente ainda não sonhou is a ballad which seems to be suspended in time, which mixes acoustic and electronic sounds and shows Carlinhos Brown's mastery of this type of music.
Garoa shows off the dynamic reggae-loving side of Carlinhos Brown, playing all the instruments on an excellent dance track. Guaraná café was written by Carlinhos and Ivete Sangalo and is a great example of the Brazilian-Jamaican connection, though more of a subtle example on this occasion. Dia de você by Carlinhos Brown and Michel Sullivan, is a relaxing track and on Página futuro the "Tribalistas" Brown, Arnaldo Antunes and Marisa Monte come together again on a syncopated funk.
The party ends with Te amo família, a gorgeous track also written by Michael Sullivan which sums up the character of A gente ainda não sonhou, the new album from a unique artist: Carlinhos Brown
Booklet 16p., Lyrics in Portuguese with German translation, 61'15''
O Aroma Da Vida / Mande Um Email Pra Mim / Everybodygente / Aos Teus Olhos / Loved You Right Away / Goodbye Hello / Marina Dos Mares / Pedindo Pra Voltar / A Gente Ainda Não Sonhou / Garoa / Guarana Cafe / Dia De Você / Página Futuro / Te Amo Família
Watch the Video for Garoa via YouTube (requires Flash Player):