OUT OF STOCK>br>Brasileirinho is a wonderful documentary on Choro, one of the greatest
musical traditions of Brazil, from the finnish director Mika Kaurismäki.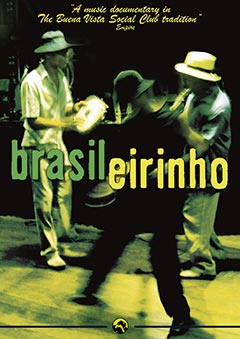 Most of the people think of samba when it comes to Brazilian music. Only a few know that choro is still one of the most important musical genres in Brazil.
The choro evolved around 1870 in Rio de Janeiro long before the samba. Brazilian musicians started to mix euopean waltzes and polkas with afro-brazilian rhythms and harmonies. Choro has remained until today the instrumentalists' discipline and standard of excellence. The choroes are the aristocrats of the Música Popular Brasileira. The choro etudes of Villa-Lobos, the interpretations of Baden Powell and the revolutionary works of Pixiguinha prove this perfectly, although the choro lives as well in the suburbs of Rio.
Rio de Janeiro is a major city, but when it comes to choro it is just a village: everyone knows everyone. In choro there is no black or white, north or south zone, Tijuca or Copacabana. The choro musicians come from all levels and urban districts of Rio's society. I have seldom seen such a huge musician family where almost without exception one speaks of the other with great respect and reverence, particularly where older musicians are concerned.
"If, as one tends to say, the tango is a sad thought that one can dance, then the choro is a story told half laughing and half crying that can be expressed on a musical instrument," writes the Brazil-Expert Claus Schreiner in the linernotes ot this album.
"Brasileirinha" was directed by Mika Kaurismäki (whose younger brother Aki Kaurismäki already received very positive feedback for his film "Moro no Brasil"). Mika Kaurismäki succeeded in gathering choro musicians of all generations. He shows how very old and young musicians are all bound together through music.
The centre of attention in "Brasileirinha" is the group Trio Madeira Brasil, filmed in various locations with various guests appearing for auditions, sessions and concerts. The trio creates an ideal background for encounters of all sizes with appearances of Ronaldo do Bandolim, Zé Paulo Becker and Marcello Gonçalves. With a basis choro instrumentation (bandolim, guitar (violão), 7- string guitar (violão-7) they are reliable accompanists for the presentation of various musicians. Paulo Moura, Marcos Suzano, Yamandu Costa, Hamilton de Hollanda, Elza Soares and Joel Nacimento are only a few of the outstanding musicians, Kaurismäki presents in interviews, sessions and concerts.
"Brasileirinho" had its debut at Berlinale Film Festival 2005 (Official Selection).
Medium: DVD 9; Picture: 16:9; Sound: Dolby Digital 5.1 Surround; Format: PAL Region 2; Language: Brazilian; Subtitles: English; Extras: Interview with Mika Kaurismäki, Filmography Mika Kaurismäki; Background Informations on Choro
Total Lenght: 99 Min.
More info on the Original Soundtrack 'Brasileirinho - Choro in Rio'