The Original Soundtrack of the documentary movie Brasileirinho directed by
Mika Kaurismäki presenting on 19 tracks the great masters of choro music.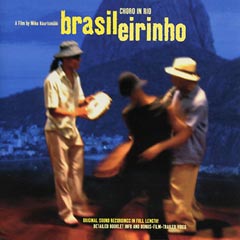 The soundtrack "Brasileirinho - Choro in Rio" presents 19 titles in full length, most of which can be heard in the film as extracts only.
Booklet 20p., Detailed Linernotes in English, 65'58''
Machucando / Santa Morena / Um Calo De Estimacao / Brejeiro / Assanhado / Chorinho Pra Voce / O Bom Filho A Casa Torna / Falando De Amor / Chorinho De Gafiera / Aguenta Seu Fulgencio / Degenerado / Papo De Anjo / Formosa / Bole Bole / Carinhoso / Barracao / Choro Da Bisa / Foi Uma Pedra Que Rolou / Cochichando / Bonus Track: VIDEO Trailer for Brasileirinho (PC/MAC)
Extensive info on the movie Brasileirinho on the DVD's page.