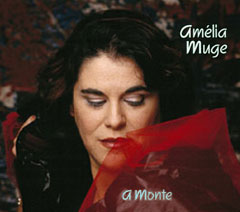 Terms like "New Fado" and "Fado Fusion" and the never ending discussion about the legal successor of the Queen of Fado Amalia Rodrigues dominate the reception of Portuguese music outside of Portugal, mostly if it is about a female vocalist. Amélia Muge moves beyond these definitions of stiles creating as a singer and as a composer her very personal Portuguese music. She was born in Mozambique and this gives her art a more global and less national aspect. A group of skillfull musicians with guitar, bagpipe, reeds, accordeon, percussions and some brillant electronics supports her singing and shows in each of the 17 tracks the creativity and uniqueness of Amélia Muges work.
"A Monte", meaning "on the run, fugitive", ist the fourth solo-album of Amélia Muge. With the help of the arranger and multi-instrumentalist Antonio José Martins, who collaborated already several times with her, and of José Manuel David, one of the key-members of the famous Gaiteros de Lisboa, Amélia Muge sets poems of famous lusophone writers to music. The poems by nobel-prize winner José Saramago, Fernando Pessoa, the famous poet from Lisbon, the Brasilian Carlos Drummond de Andrade and many others, for which she has composed the music, are for Amélia Muge an important part of her artistic work. She sees the poems of the authors not as texts but as living voices which inspire her to her musical work. Therefore her aim is to give space to these voices in her compositions beyond all defintions of stiles and genres.
Amélia Muge was born in Mozambique in 1952. She studied Fine Arts and History and has since worked as a teacher, artist, photo-journalist and team leader for musical and theatre groups. She has coordinated community programmes for women and is actively engaged in the struggle to improve the status of all women in post-colonial Mozambique. An acomplished poet, she has published a book of children's stories, O Girassol (1983), a number of musical records and in 1983 a book, Muipiti Ilha de Moaçambique, about Mozambique Island, the small island in the north of Mozambique where the first colonial encounters between Portuguese explorers and local Arab traders are said to have taken place. Since 1984 Amélia Muge has lived in Portugal.