George Dalaras together with the Albanian accordionist Dasho Kurti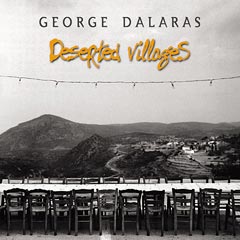 Deserted Villages (Erima Choria) is the first comprehensive work by composer and accordion soloist Dasho Kurti. George Dalaras interprets most of the songs.
George Dalaras is not only a top-ranking singer and musician. He is also known for his love for good music, for knowing the traditions of many nations and for promoting the people who respect and express them. It is common knowledge that with his decisive cooperation he opens new roads for people who, according to him, have a lot to offer to the art of music and has never been proved wrong.
After his very successful cooperation with Goran Bregovic, George Dalaras continues with yet another Balkan composer. Dasho Kurti is one of those who made a lasting impression with his very first work, as he is replete with soul, feeling and knowledge of the musical tradition of his nation.
The songs of the record echo the sounds of traditional tunes and rhythms with several modern elements as well. They are sung by George Dalaras and a number of special surprise guests who, either alone or in duet, wholeheartedly embrace and interpret this work.
"Deserted villages" is an unexpected and down-to-earth CD recorded live in the studio with the immediacy and clarity of a fresh inspiration. A recording that will enthrall you. A CD that opens new horizons and gives voice to the Balkans.
More music by George Dalaras on Tropical Music:
CD Axion Esti / Romiosini (Live-Recording of two outstanding works of Mikis Theodorakis with Dalaras as soloist)
CD A Tribute to Markos Vamvakaris
CD Live & Unplugged
CD The Greek Spirit
CD The Greek Voice