Mayte Martin was born to sing.
And what came out the day she started to, was Flamenco.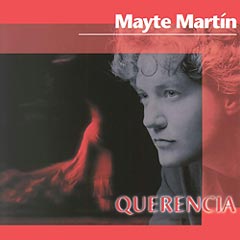 In 2001, with her awarded, ovationed and most mature work to date Querencia, Mayte Martin bets on an austere and contemporary orthodox statement that calls both on creativity and ancient singing at the same time.
In 2002, her CD Querencia was released through Tropical Music in various European countries and Mayte Martin toured all over Europe together with Belen Maya.

"My only desire is to share what I create with the audience. It's the only honest way to work: to give birth and to perform it. And whoever likes that and can enjoy it, should do so".
To conceive music is what Mayte Martin does constantly, but not only Flamenco, even though it's what has made her famous. For Mayte, music is the language of communication.
Her vast array of subtleties, the chromatic beauty, the brightness of her voice, and her ability to communicate with the audience has granted Mayte Martin numerous and notable followers who have embraced all of her musical projects with great enthusiasm. Querencia won the Latin Grammy Awards of 2001 for Best Flamenco Album.
Other CDs by Mayte Martin on Tropical Music
CD Mayte Martin - Tiempo de Amar (68.829)

More info on Mayte Martin